No job, bad mortgage - out of luck
More homeowners are falling behind on their mortgages because they've lost their jobs. And there's little help coming their way.
Photos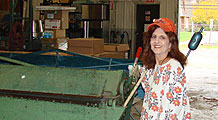 NEW YORK (CNNMoney.com) -- All the foreclosure prevention plans announced to date will do little to help the next wave of delinquent homeowners, who can't make their monthly payments because they've lost their jobs.
But something needs to be done for them, experts said, or the country will sink deeper into an economic recession.
"Because of the financial crisis, they can't afford their mortgages on any terms," said Kathleen Engel, associate professor at Cleveland-Marshall College of Law. "None of the federal or bank programs will provide them any relief at all."
Loan modification plans have focused on assisting borrowers facing interest rate resets or other mortgage terms that have rendered the monthly payments unaffordable. Most proposals have attacked the problem by adjusting the interest rate or length of the loan so that the monthly payments drop to what is considered an affordable level, or between 31% and 38% of a borrower's gross income.
This, however, does little for people whose monthly income is virtually nothing. Representatives from lenders and firms that service loans say the unemployed have to be assessed on a case-by-case basis and can't be part of the streamlined modifications underway.
"This is a different problem and a more challenging problem," said Tom Kelly, spokesman for JPMorgan Chase (JPM, Fortune 500), which last month unveiled a loan modification plan aimed at helping 400,000 delinquent homeowners. "If you are unemployed for a long time, there is no affordable range."
A record 1.2 million homes were in foreclosure during the second quarter of 2008, according to the Mortgage Bankers Association. Consumer advocates, as well as certain Democratic lawmakers and officials within the Bush administration, have pushed banks and government officials to do more to help struggling homeowners.
A new wave of empty homes on the market won't help anybody. In fact, it will just lead to further price declines, which in turn, will further weaken the economy. Until this cycle is broken, everyone suffers, experts say.
The problem of rising foreclosures due to unemployment is only expected to get worse. With companies announcing mass layoffs almost daily, more people will fall behind on their payments. Already the unemployment rate is at 6.5%, its highest level in more than 14 years.
The effects are already showing up in the housing market. In June, 45.5% of all delinquencies reported by Freddie Mac were due to unemployment or the loss of income, according to the company. That's an increase from 36.3% in 2006.
The problem won't go away anytime soon. Some estimates say another 2 million families could lose their homes to foreclosure in the next two years.
More unemployed homeowners calling
Already overwhelmed with calls from families plagued by rate resets, servicers said they are now seeing an increased number of calls from the newly unemployed. At this point, they have to handle each case individually.
For those with good prospects of landing another job with a comparable income, banks might offer the homeowner a short-term modification or forbearance. This allows borrowers to make smaller payments - or in some cases, no payments - for up to a year until they find new employment. The bank would then increase the monthly payments until the borrower is caught up or add the missed months back into the principal and recalculate the monthly payment over the life of the loan.
"It depends on the likelihood of finding a similar job with similar income," said Terry Francisco, spokesman for Bank of America (BAC, Fortune 500), which has announced a plan to help 400,000 troubled borrowers. "In a declining economy when unemployment is rising, more people are facing this situation. We realize more people may need short-term modifications."
But borrowers who may have trouble getting another good job have fewer options, experts said. In these cases, the servicer may offer the homeowner a short-sale, in which the bank forgives the difference between the sale price and the mortgage balance.
"If it's driven by unemployment, they may not be able to keep the house," Kelly said.
Homeowners are often left in the lurch. Take Dave Breitenbach, who lives in an upscale condo apartment with ocean views in Fort Lauderdale Beach. He had no trouble making his $5,000-plus monthly payments when he was employed. But now that he's lost his executive job at a fitness chain, he's struggling.
After hearing in October that his bank had launched a program to help troubled homeowners, he called. But representatives said there was nothing they could do.
"They said we can't help you because you don't have any income," said Breitenbach, who has started his own business and is trying to sell the place, but has seen little interest. "You don't qualify. They said once I get a job, I could call back and they could try to help me then."
Something must be done
If the wave of job-loss foreclosures isn't addressed, home values will continue to drop, preventing the economy from recovering, economists said. This, in turn, will spur more job loss, creating a vicious cycle.
The solution, this time, may not lie with the servicers.
"When it was simply a matter of the amount of the payment, there were more options for servicers," said Richard DeKaser, chief economist at National City Corp. "When the income is gone, the flexibility of the workouts diminishes considerably."
Instead, the government needs to stop the cycle by spurring job creation, experts said. The quickest and most effective measure could be an economic stimulus package aimed at boosting employment.
"Just giving consumers money won't help," said Alan White, assistant professor at Valparaiso University School of Law. "We need government spending to create jobs."

Features

These Fortune 100 employers have at least 350 openings each. What are they looking for in a new hire? More

It would be the world's second-biggest economy. See how big companies' sales stack up against GDP over the past decade. More