Holiday sales slow for small retailers
While Big Box stores draw huge crowds with massive discount sales, independent shops are struggling with tight consumer spending.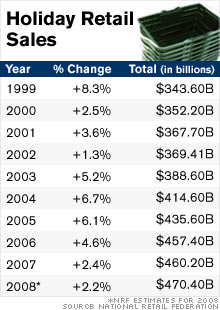 DUCK, N.C. (CNNMoney.com) -- While chain retailers like Wal-Mart and Best Buy began this year's Black Friday with their traditional throngs of bargain-hunting shoppers, things are quieter at small, independent shops throughout the nation.
"It's been dead here," said Ruthayn Scaglio, owner of the Shoetique shoe store in Katonah, N.Y, which opened in 2007. "Absolutely dead."
Hoping for a busy day, Scaglio and her husband brought on an extra sales associate for Friday, but so far, sales have been slow. It's a dramatic change from last year. "It was our first Black Friday, and I anticipated everyone would run to the malls," Scaglio recalled. "To my surprise, our business was out of control."
In Duck, N.C., small storefronts such as Dazzles, a jewelry and crafts store, were receiving customers early in the day.
"We're prepared to be busy today because this day last year was great, and we have an extra sales associate in the store to handle the customers," said sales associate Pam Vanderbeek. "But to be honest, we're seeing lots of people come in who aren't spending,"
Main Street retailers around the U.S. say they don't expect this Black Friday to break any records - a big problem for shops relying on big holiday spenders to carry them through the bad economy.
In Medina, Ohio, business at Ken Young's toy store, Fundamentals, has dropped between 20% and 50% each month this year. In the past three weeks, he's seen business start to pick up, but his sales are still far off what he saw in previous years.
"I'm keeping my fingers crossed," Young said. "Though this is the worst year in a long time retailers in my area have seen, I'm trying to stay positive and not bury my head in the sand."
Afraid of being caught short if demand is high, Young didn't cut back on his inventory for this year's holiday season. He's relying on his novel products and attentive customer service to lure shoppers away from toy giants like Toys R Us.
Donna Miyamoto is one customer who makes a point of visiting independent retailers. She traveled from New Jersey to North Carolina to spend Thanksgiving with her family, and hit the shops Friday morning. Avoiding Wal-Mart and a string of outlet stores 10 miles away, she came to Dazzles and other shops in the area to browse for gifts - though she said she'll be reining in her spending this year.
"Like in years past, I'll be doing the majority of my holiday shopping here," she said. "These little stores just have much more interesting things."
At Someone's in the Kitchen, a cookware store in Libertyville, Ill., manager Bonnie Bock, is hoping to at least hold steady this season. Bock typically makes 75% of her annual sales in the fourth quarter, when gourmet and specialty culinary tools fly off the shelves for the holidays. To keep customers coming into her store during the economic downturn, she's focusing on creative marketing tactics like a cookbook club, with potluck meetings that take place in her shop several times each week.
Recently she's seen her holiday-season traffic start to pick up, though she isn't expecting the growth that she saw in each of the last two years.
"I won't say we're going to hit a milestone this year, but I think this holiday season will help support our business so we don't see a decline from last year," Bock said.
As much as shop owners want customers to come spend big, many acknowledge they're sharing the sense of frugality that has customers cutting back.
"Of course, I hope people save for Christmas, but I know my kids aren't getting much," said Shoetique's Scaglio. "Realistically I know people aren't going to blow all their savings this year."

click here
.

My dream is to launch my own business someday. Now that it's time to choose a major, I'm debating if I should major in entrepreneurial studies or major in engineering to acquire a set of skills first. Is majoring in entrepreneurship a good choice?
More
- Spate, Orange, Calif.

More Small Business

Next Little Thing 2010