Weakened labor market hits small biz
A new study finds that small firms are undergoing their worst employment contraction in nearly seven years.
Photos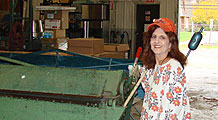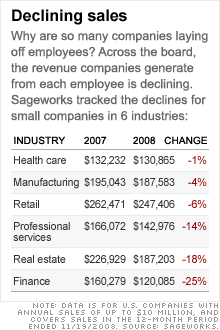 NEW YORK (CNNMoney.com) -- For the second month in a row, employment among small businesses is down, according to estimates from payroll processor ADP. The drop marks the first time since early 2002 that the nation's most resilient job sector has shown two consecutive months of contraction.
Companies with fewer than 50 employees shed 79,000 employees in November, according to the ADP National Employment Report released Wednesday. Total U.S.employment at companies of all sizes dropped by 250,000.
"Consistent with the contracting economy, I think the magnitude of the decline didn't surprise many people, but for first time in the ADP report, there is evidence that job losses are spreading beyond construction and manufacturing sectors," said Joel Prakken, chairman of Macroeconomic Advisers LLC, which partners with ADP to compile the monthly report.
Medium-sized businesses, defined as those employing between 50 and 500 workers, have seen declines each month since April, losing 130,000 employees this month. Large businesses with more than 500 employees have not seen gains since January, and this month lost 41,000 workers.
"The larger losses in medium and small sized firms are indicative of the ripple effect of this economy. The waves are crashing on the shores of industries and companies previously not impacted," Prakken said.
Another economic research firm, Sageworks, points to declining sales across all industries as a catalyst for the widespread job losses. The Raleigh firm tracks sales by aggregating data from its financial management software. Among companies with less than $10 million in annual revenue, sales per employee fell by 6% this year in the retail trade, which traditionally generates the highest per-staffer returns. Financial services was the hardest-hit industry, with a 25% drop in sales per employee.
Prakken's take: "The declines across the board mean it's going to get worse before it gets better."

click here
.



My dream is to launch my own business someday. Now that it's time to choose a major, I'm debating if I should major in entrepreneurial studies or major in engineering to acquire a set of skills first. Is majoring in entrepreneurship a good choice?
More
- Spate, Orange, Calif.

More Small Business

Next Little Thing 2010