Will Obama's tax plans bite small biz?
Some entrepreneurs would take a hit if Obama's tax hike on high incomes goes through, but most small business owners would see their tax bills stay the same or shrink.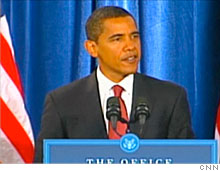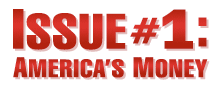 Issue #1: America's Money - Everyday on CNN
(CNNMoney.com) -- Joe the Plumber must be pleased: President-elect Barack Obama has recently hinted he'll delay his plan to raise taxes on individuals earning more than $250,000 a year. But what will this reprieve really mean for small business owners - should they prepare for an eventual tax hike?
That depends, say tax experts, on how your business is incorporated, and how much money it makes.
Technically, Obama's plan is less a tax hike than the rollback of a tax cut. Between 2001 and 2003, President George W. Bush cut the top income-tax rate from 39.6% to 35%. After initially suggesting he'd restore the 39.6% top rate starting next year, Obama has more recently indicated he may wait till after 2010, when the Bush tax cuts will expire unless Congress votes to extend them.
The higher rate would affect only taxpayers in the top two brackets, which would be adjusted to include only those earning over $250,000 a year ($200,000 for single filers). For small business owners, the effects of these changes depend on how your business is organized.
Most small businesses are structured as either sole proprietorships, limited liability companies (LLCs) or partnerships (LLPs), or under subchapter S of the IRS code (S-corps). These operate as so-called "pass-through" entities, because they don't pay taxes themselves: Their income or losses are declared on the tax returns of their owners.
If you're the sole owner of a business operating as an LLC, then under Obama's plan, you'd see your income taxes rise if your household's total income for 2009, including that of the business, exceeded $250,000.
Tax experts stress, though, that "income" here is net, not gross. If your business has sales of more than $250,000, you won't be hit with a higher tax bill unless you're taking home more than $250,000 in profits that you report as income on your personal taxes.
"What you pass through is your net profit - the receipts less all the expenses, labor costs, and so forth," says Eric Toder of the Tax Policy Center, a joint project of the centrist Brookings Institution and the liberal Urban Institute. A business with enough expenses to keep its profits low, then, would not see an increased tax bill.
Because of this, even the owners of many larger businesses could see their taxes remain steady under the Obama tax plan or even fall. The Tax Policy Center has estimated that of tax filers for whom more than 50% of their income comes from small-business sources, about 335,000, or 2.7%, would see their taxes rise. Toder says the center hasn't calculated how many small business owners would benefit from various tax credits Obama has proposed.
In total, the center forecast that Obama's proposed increases for the top two tax brackets would increase revenue by $43 billion in 2009 and $45 billion in 2010.
Broader changes
There are other tax changes in the works that could affect business owners' bottom lines. Social Security may face shortfalls in coming years as the Baby Boom generation hits retirement age. During his campaign, Obama floated the idea of poking holes in the income cap on taxes that support Social Security. Currently, portions of both payroll (FICA) and self-employment taxes (SECA) are capped. The 2008 cap is $102,000 a year; you don't pay into Social Security for any income above that level.
Another potential tax-law change, meanwhile, is brewing in Congress, where Rep. Charles Rangel, chair of the powerful House Ways and Means Committee, last month told Bloomberg Television he'd move to slice the corporate income tax rate from 35% to 28%. This would have no effect on "pass through" corporations, but would present a dramatic tax savings for corporations organized under subchapter C (C-corps), which must pay corporate taxes. Obama might support such a plan: During the campaign, his economic policy director said that Obama would like to cut the corporate tax rate.
To pay for that cut, Rangel has also suggested raising the top income-tax rate to as high as 43.6%, up from 35% today, though this seems unlikely to gain the support of the Obama administration, let alone Congressional Republicans.
For business owners hit by any new taxes, meanwhile, there are limited options, say accounting experts.


Maximizing your tax advantages
"There isn't anything they can do that will help a lot," says Kip Dellinger, a CPA and senior tax partner with Kallman and Co. in West Los Angeles. "There may be a big push among the self-employed to try to put more money into retirement plans" - using assumptions about retiring at the earliest age possible, and pessimistic projections on returns, to allow higher contributions that will enable you reduce your taxable income to below the new top bracket.
Another option would be to shift declared income to a tax year where the old, lower rates still apply, or to a year with higher offsetting expenses, to avoid the higher rate. "It's not difficult to accelerate income for tax purposes," notes Dellinger. The IRS's attitude, he says, is: "If you want to report and pay tax on it, we'll be glad to take the money."
On the other hand, given that most small business owners won't have to worry about showing more than $250,000 in profit - especially in today's consumer climate - Toder suggests that small business owners would be better off watching debates over health insurance reform than changes to the tax code.
"That will probably have a more profound effect on small businesses than the tax rate increases," he says.

To write a note to the editor about this article,
click here
.



My dream is to launch my own business someday. Now that it's time to choose a major, I'm debating if I should major in entrepreneurial studies or major in engineering to acquire a set of skills first. Is majoring in entrepreneurship a good choice?
More
- Spate, Orange, Calif.

More Small Business

Next Little Thing 2010