A car czar offers 'bankruptcy lite'
The proposed auto bailout gives big power to a presidential appointee and the opportunity to push for major changes in the industry.
Map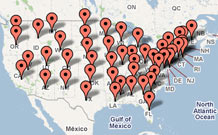 More than 2 million workers in every state - including Alaska and Hawaii - draw their pay from the auto industry.
»»
Find your next Car

NEW YORK (CNNMoney.com) -- The Big Three automakers say bankruptcy is not an option - and it may not have to be if they get their federal bailout. But that doesn't mean there won't be strings attached -- or someone to pull them.
In the bailout plan, the president would appoint a "car czar" - which could be an individual or the head of a panel - to write the guidelines for $15 billion in stop-gap loans, due by Jan. 1, and then essentially set the terms for and oversee the restructuring of any carmaker that takes a loan.
The plan also gives the car czar extraordinary powers to compel "interested parties" in the industry -- i.e., lenders, auto dealers and union representatives - to make concessions.
And anyone the car czar feels isn't negotiating on good faith could be brought before Congress to explain, said Brad Coulter, a director with O'Keefe and Assoc., a Detroit bankruptcy and turnaround consulting firm.
"You've got the big two-by-four to the head of the industry," he said.
According to the proposed rules, the car czar will:
Authorize loans to automakers.
Set restructuring goals and evaluate the progress.
Negotiate deals between automakers and "interested parties" on the long-term restructuring plan, including setting up meetings.
Report to Congress every 15 days with a progress report.
The plan sounds like the sort of arrangement a much smaller company might make with a single big creditor when default looms, Coulter pointed out. "To me it reads like a forbearance agreement from a lender," he said.
In a case where a smaller company is at risk of loan default, a major creditor can appoint an overseer and dictate terms of the company's restructuring without requiring bankruptcy proceedings.
This arrangement avoids most of the dangers of a bankruptcy, which carmakers fear because they say car shoppers would be scared to buy from a company they think might go out of business.
From within or without
The biggest question is whether the job requires an auto-industry insider with a working knowledge of its intricacies, or an outsider with a fresh perspective.
Coulter said the ideal candidate would be an outsider, thereby avoiding possible conflicts of interest - but with a background in manufacturing, which would give them insight into the unique challenges of the business.
A strong top car czar could surround himself with industry experts, bankruptcy experts and others who could assist behind the scenes, he suggested.
Whoever is selected for the job would need to have "an overall working knowledge of the industry, the business sense and an appreciation for the consequences of a failure of the industry," said Doug Bernstein head of the bankruptcy practice for the Michigan law firm of Plunkett Cooney.
It also has to be someone who understands how to take troubled companies and make them healthy again, he added. "You have to have gone through good times and bad," he said. "There's an art to doing a turnaround."
Another thing the Car Czar must do, said Bill Diehl, chief executive of the international consulting firm BBK, is recognize the progress carmakers have already made and not try to manage their businesses for them.
"They know very well what needs to be done and I think they have been taking action," he said.
None of these experts claimed any insight on exactly who the final choice for the job might be, assuming a single person is put in charge.
Handling the Hill
While most experts agree that a car czar is a far better option than bankruptcy, it's not without potential potholes. They're afraid Congress will let political interests interfere with smart business practices.
For instance, the proposed rules say automakers in the program cannot own or lease private aircraft. This comes after the leaders of Ford (F, Fortune 500), General Motors (GM, Fortune 500) and Chrysler caught a lot of flak for flying in corporate jets to the first round of bailout hearings.
But one man's excess is another's basic need. "If you look at any large organization, the planes are not a luxury. They are an effective way of managing the business," said Diehl. It just isn't cost-effective for senior managers of global corporations to sit on the tarmac or wait out missed connections at airports, he said.
"I would like to think the car czar would have the ability to eliminate the politics," Diehl said. That may mean finding creative solutions to meet both the political and business requirements.
"You need a strong person at the top who has pull in Washington," Coulter agreed.

Features

These Fortune 100 employers have at least 350 openings each. What are they looking for in a new hire? More

It would be the world's second-biggest economy. See how big companies' sales stack up against GDP over the past decade. More