How a shutdown really saves Chrysler money
The automaker's inventory levels won't move much, but at least carmaker will save money. Suppliers could suffer, though.
Map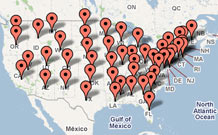 More than 2 million workers in every state - including Alaska and Hawaii - draw their pay from the auto industry.
»»
Find your next Car

NEW YORK (CNNMoney.com) -- A temporary plant shutdown gives an automaker the chance to stop making cars and sell off the ones that are still sitting around. But in Chrysler's case, the benefit comes from the money it saves on day-to-day costs.
First off, Chrysler's inventory glut won't continue getting worse during the month its factories are idle, even if it doesn't get much better.
At the beginning of December, Chrysler had 399,700 vehicles, or a nearly four-month supply of cars, trucks and SUVs, according to data from Automotive News. About a two-month supply is considered normal in the industry.
"If they can get that down below a 90-day supply, I think that would be an intermediate goal," said Jesse Toprak, an analyst with the automotive Web site Edmunds.com. He was speaking about both Chrysler and General Motors, which has also announced drastic production cutbacks in the face of bloated inventory.
Chrysler's sales last month dropped 47.1% from the year before, the worst slowdown of any carmaker in November. Industry analysts don't forecast a much better performance this month.
Based on a comparison to last year's sales rates, Chrysler may only sell about 70,000 vehicles between Dec. 19 and Jan. 19 when its factories won't be running. (The period includes a regularly scheduled two-week shutdown for the holidays.) Meanwhile, Chrysler will have produced about that many vehicles in the first part of December before the Friday evening shutdown, based on Automotive News production data.
So, by Jan. 19, Chrysler's inventory levels will be back where they started at the beginning of this month. But the automaker will have saved substantial money by not powering all those factories, not paying 46,000 workers their full hourly wages and not buying parts to build vehicles that will sit in storage.
The cost savings
"I think the inventory is a secondary consideration in this," said Tom Libby, an analyst with J.D. Power and Associates. Although Chrysler's move may be the most dramatic, he added, it is something all automakers are doing to some extent.
"They're all really looking at turning down the production levels to some extent," said Mike Wall, an analyst with CSM Automotive.
During the additional two weeks of shutdown, assembly line workers will be paid through a combination of state unemployment benefits and Chrysler contributions, but they will not receive the full amount of their working pay, a Chrysler spokesman said.
Chrysler would save more money by not paying suppliers for the parts and materials to build the cars. In its "Plan for Short-Term and Long-Term Viability" filed with the federal government as part of a plea for financial assistance, Chrysler estimated it would pay $8 billion to auto parts suppliers in one quarter. Based on that, the extra two weeks of closure, if Chrysler paid nothing at all to suppliers during that time, could save the carmaker about $1.3 billion.
But stopping production doesn't mean the facilities are entirely shut down and cost-free, said Michelle Hill, a vice president with consultants Oliver Wyman.
"You still have the finance department and the indirect purchasing department," she said. Indirect purchasing deals with supplies the company needs other than auto parts. But Chrysler will save money on outside service contractors that supply functions like janitorial services and security, she said.

"In the winter, especially, maintenance costs can be pretty high," said Chrysler spokesman David Elshoff. "plowing big, big parking lots and stuff like that."
Beyond the closed gates
"When you have a plant shutdown, it will ripple across all the parts manufacturers," Hill said.
But even for suppliers, a temporary closing is better than an outright collapse of the business, said Mike Wall, an analyst with CSM Automotive. Carmakers ordinarily give warnings to their suppliers.
Still, "it doesn't make it any easier," he said. "They have to right-size their own production levels." That means laying off their own employees as they're no longer needed to make parts for the closed plants.
Connecting the closures to an already scheduled closing makes things somewhat easier on everyone, said Chrysler's Elshoff.
"It's easier on the entire chain," he said. "They don't have to ramp up and shut down and ramp up and shut down."
After the new year
Chrysler said Wednesday that all 30 of its plants will close after the last shift on Friday, and employees will not be asked to return to work before Jan. 19.
But some plants will stay closed beyond that time, Elshoff said. Two Jeep plants in Ohio, will stay closed until Jan. 26, and a minivan plant in Canada won't reopen until Feb. 2.
Some plants that aren't currently scheduled to be closed past Jan. 19 could still stay shut longer if their products aren't needed, said Elshoff.
"We always reserve the right to adjust our production," he said.

Features

These Fortune 100 employers have at least 350 openings each. What are they looking for in a new hire? More

It would be the world's second-biggest economy. See how big companies' sales stack up against GDP over the past decade. More