AmEx: We're getting TARP, too
More than a month after becoming a bank, credit card issuer gets preliminary OK for $3.9B in bailout funds. CIT gets $2.3B.
Tracking the bailout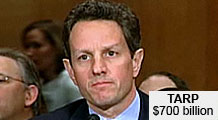 NEW YORK (CNNMoney.com) -- American Express Co. announced Tuesday that it had received preliminary approval for a $3.9 billion government bailout investment.
The capital injection will come from the Treasury Department's $700 billion Troubled Asset Relief Program, which in part provides capital to banks in exchange for preferred shares and high-paying dividends. If approved, American Express would be the ninth biggest capital investment of the more than 100 Treasury has made in banks so far.
"Treasury's investment will help bolster our capital position in an uncertain economic environment," said a spokeswoman for American Express. "The added flexibility will help the company, in the near term, to stay profitable and continue to invest selectively for growth."
The news comes more than a month after the Federal Reserve approved AmEx's request to become a bank holding company. The move, which was announced on Nov. 10, provided the company greater access to federal funding and government rescue programs mainly available exclusively to banks.
AmEx (AXP, Fortune 500) said in October that it began to issue short-term debt through the Fed's Commercial Paper Funding Facility, which provides company with financing for its day-to-day operations.
Earlier in December, the company issued $5.5 billion in corporate bonds backed by the FDIC's Temporary Liquidity Guarantee Program.
In a separate announcement, commercial finance company CIT (CIT, Fortune 500) also said it has been approved for TARP funds. CIT, which said Monday it had been granted bank holding company status, said Treasury gave the company preliminary approval for a preferred share investment of $2.33 billion.
CIT's would be Treasury's 15th most expensive capital investment.

Features

These Fortune 100 employers have at least 350 openings each. What are they looking for in a new hire? More

It would be the world's second-biggest economy. See how big companies' sales stack up against GDP over the past decade. More