Treasury: $4.7 billion to local banks
Another round of capital investments under the $700 billion bailout brings the total amount dispersed to $172 billion.
Tracking the bailout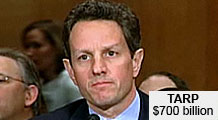 NEW YORK (CNNMoney.com) -- The Treasury Department, broadening the reach of its bank bailout, said Tuesday it had invested $4.7 billion in another 92 local banks.
Under the $700 billion Troubled Asset Relief Program, Treasury has allocated $250 billion for capital investments in banks.
Treasury lends funds to banks in exchange for preferred shares, warrants, and high-paying dividends. The aim: to encourage strapped-for-cash financial institutions to lend more money and provide much-needed liquidity in the financial markets.
As of Tuesday, the government has injected $172.4 billion into 208 banks.
In the latest round, Columbus, Ga.-based Synovus Financial Corp. (SNV) got the largest amount, receiving $968 million. Whitney Holding Corp. (WTNY) and Wintrust Financial Corp. (WTFC) both received more than $250 million.
The latest round of capital investments saw the first injections of bailout funds into private financial institutions. Of the 13 non-public banks receiving TARP funding, Dallas-based Plains Capital Corp. got the most, with an $87.6 million investment from Treasury.
Until Tuesday, all banks had given warrants to Treasury in exchange for a capital investment.
In the latest round, Boston-based OneUnited Bank gave only preferred stock to the government. A Treasury spokeswoman said the bank caters to a low-income community, and the government did not want to penalize the bank with a warrant due to the service it provides.
The capital investment plan has received the largest portion of the $700 billion bailout money so far. But it was not part of Treasury's initial strategy, which included buying up droves of toxic mortgage-backed securities. The Treasury soon abandoned its initial bid, saying capital injections served as the best method of restoring the financial markets to normalcy.
The plan has been the target of much criticism from lawmakers. Some object to the largest and most solvent banks receiving the largest sums of money. For instance, Wells Fargo (WFC, Fortune 500), JPMorgan Chase (JPM, Fortune 500) and Citigroup (C, Fortune 500) all received $25 billion and Citigroup is set to receive another $20 billion from Treasury.
Other members of Congress and oversight officials have said the plan lacks the ability to determine whether the money lent to banks is being used for its intended purpose.

Features

These Fortune 100 employers have at least 350 openings each. What are they looking for in a new hire? More

It would be the world's second-biggest economy. See how big companies' sales stack up against GDP over the past decade. More