GMAC - Fed opens door to bailout funds
Top regulator grants bank holding company status to GM's troubled financing arm. Cites turmoil in financial markets.
Map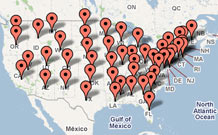 More than 2 million workers in every state - including Alaska and Hawaii - draw their pay from the auto industry.
»»
NEW YORK (CNNMoney.com) -- The Federal Reserve on Wednesday opened the door for GMAC to get federal bailout money by granting the troubled General Motors finance arm status as a bank holding company.
"In light of the unusual and exigent circumstances affecting the financial markets ... the board has determined that emergency conditions exist that justify expeditious action," the Fed said in an order released Wednesday evening.
The move represents the latest extraordinary government action intended to rescue the American auto industry. Last week, President Bush announced a $13.4 billion aid package for GM (GM, Fortune 500) and Chrysler LLC, saying that allowing the U.S. auto industry to collapse "is not a responsible course of action."
"Today's announcement marks a key turning point in GMAC's history," said GMAC Chief Executive Officer Alvaro G. de Molina. "As a bank holding company, GMAC will be competitively positioned for the long-term to provide financing to auto and mortgage consumers and businesses such as automotive dealers."
Cerberus could not be reached for comment.
GMAC is the biggest lender to GM's 6,500 dealers nationwide, most of which get the financing they need to operate and buy vehicle inventory from the automaker.
The failure of GMAC could spark widespread failures among GM's dealership network and cut even more deeply into sales. An analyst at Barclays Capital suggested in a report last week that GMAC's failure could force GM to come up with $9 billion to $13 billion in additional funding to back its dealers - money GM clearly doesn't have right now.
GMAC, once a major source of profits for GM, reported a $2.5 billion loss in the third quarter, bringing its losses in the past five quarters to $7.9 billion. The financing firm, which is also a home mortgage lender, has been hit hard by both the decline in auto sales and turmoil in the housing market.
In order to complete the agreement, neither GM nor Cerberus Capital Management can have controlling interests in GMAC. Currently, GMAC is 49% owned by GM and 51% owned by private equity firm Cerberus Capital Management.
According to the Fed, GM will reduce its ownership interest in GMAC to less than 10%.
GM's remaining equity interest in GMAC will be transferred to a trustee acceptable to the Federal Reserve Board and the Treasury Department.
The trustee will be independent of GM.
Under the Fed's order, investments controlled by Cerberus would not exceed 33% of the voting shares of GMAC.
"[E]ach Cerberus fund that holds interests in GMAC will distribute its equity interests in the company to its respective investors," the Fed wrote.
Further, Cerberus employees and consultants will no longer act as employees of or consultants to GMAC.
GMAC has been scrambling in recent weeks to raise enough capital to satisfy the Fed. In its order, the Fed said that the financing company has been successful in raising the needed capital requirements for bank holding status.
The Fed said it had considered GMAC's "successful efforts" to raise money. "GMAC will be well capitalized on completion of the proposal," the Fed stated.
The Fed Board voted 4-to-1 in favor of GMAC becoming a bank holding company. Chairman Ben Bernanke, Vice Chairman Donald Kohn and Governors Kevin Warsh and Randall Kroszner supported the action, and Governor Elizabeth Duke voted against it.

Features

These Fortune 100 employers have at least 350 openings each. What are they looking for in a new hire? More

It would be the world's second-biggest economy. See how big companies' sales stack up against GDP over the past decade. More