FDIC encourages banks to lend more
Government broadens Temporary Liquidity Guarantee Program to guarantee secured bank debt until 2019, hoping to encourage new lending.
Tracking the bailout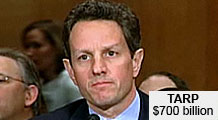 NEW YORK (CNNMoney.com) -- Federal banking regulators are considering a plan to dramatically expand a lesser-known bailout program that provides government guarantees to hundreds of billions of dollars of corporate debt.
The Federal Deposit Insurance Corp. will likely change its so-called Temporary Liquidity Guarantee Program later this month, by extending the maximum maturity of its payment guarantee on new "covered" bonds issued by banks to 10 years from three years.
Covered bonds are issued by banks, backed by collateral, like a mortgage or a consumer loan, that exists on the bank's balance sheet. It is different than an asset-backed security, which does not require banks to actually own the asset they use to back the debt issuance. The bonds are popular in Europe, but have only been offered on a limited basis in the United States.
Under the new extension, the program would cover secured debt issued from January 2009 until June 30, 2010.
The government's move is aimed at encouraging new lending, and, at the same time, protecting its own credit risk, said FDIC official Michael Krimminger on a conference call with reporters.
"Banks are looking at ways to get liquidity so they can lend it out," said Krimminger. "Longer-term financing for banks gives them longer stability in their funding sources."
Borrowers have been reluctant to take on debt from a company they're not sure will be on solid footing many years out, and the market has been wary of taking on assets of any kind recently. Subsequently, the issuance of longer-term debt backed by assets has been lagging, and the securitization market - the breaking up of loans into securities that sell like stocks - has remained moribund for many months, said Krimminger.
The new FDIC extension could help get around both of those problems, because it guarantees losses borrowers may suffer if the bank can't pay, and it helps banks issue loans despite holding assets that may scare some investors.
"Banks have a lot of assets on their balance sheets, but not access to liquidity based on those assets," Krimminger added.
Treasury Secretary Henry Paulson has also supported a covered bond market, saying in early 2008 that a widely-used covered bond market in the United States would help restore liquidity to the financial markets.
Furthermore, the FDIC only extended the guarantee for covered bonds - not unsecured debt - presumably because the government wants more assurance if it is going to make guarantees for 10 years.
"The FDIC doesn't want to be on the hook for unsecured guarantees for seven years," said Steve Van Order, fixed income strategist for Calvert Funds. "The FDIC wanted more coverage for that, and they got that with the collateral support offered by covered bonds."
Program has helped so far
The FDIC will continue to guarantee banks' issuance of unsecured debt, usually in the form of corporate bonds, for up to 125% of a bank's total debt outstanding as of Sept. 30, 2008 that was scheduled to mature on or before June 30, 2009. That program will remain at its current limit.
So far, the initiative has backed $232.2 billion in corporate debt for an estimated 1,600 banks.
The program does not solely cover the 8,500 banks the FDIC insures - the government automatically enrolled all depository banks, bank holding companies, financial holding companies and some financial institutions in the program, giving them the option to opt out. As of Thursday, 5,900 banks have opted out.
The FDIC's guarantee program has attracted numerous participants, including Citigroup (C, Fortune 500), General Electric (GE, Fortune 500) finance division GE Capital, JPMorgan Chase (JPM, Fortune 500), Wells Fargo (WFC, Fortune 500), Bank of America (BAC, Fortune 500) and Goldman Sachs (GS, Fortune 500), which months ago applied for "bank holding company" status so it could receive government aid for banks.
Early indications show the plan is working. Corporate bond yields are down, making lending cheaper for businesses. And credit default swaps - insurance contracts on debt - have also become much less expensive.
The planned expansion of the Temporary Liquidity Guarantee Program was announced by the FDIC shortly after midnight Friday as part of the provisions of the Bank of America bailout, also announced Friday. The FDIC has not formally announced its plan, but said its board will propose rule changes at a meeting in late January.
In the end, the FDIC said it hopes to foster the growth of a truly private covered bond market in the United States after it stops issuing new guarantees at the end of June 2010.

Features

These Fortune 100 employers have at least 350 openings each. What are they looking for in a new hire? More

It would be the world's second-biggest economy. See how big companies' sales stack up against GDP over the past decade. More