MC Hammer's pain scores in Super Bowl ad
NBC reaps more than $200M in ad revenue, but most Super Bowl viewers aren't feeling so rich.
Photos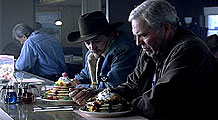 NEW YORK (CNNMoney.com) -- It's a telling sign of the times that one of the most popular commercials in last Sunday's Super Bowl was from an online pawn shop.
The ad for Cash4Gold, where rapper MC Hammer is reduced to selling his bling as pitchman Ed McMahon cashes in his gold toilet, won the top spot in Advertising Age rankings of Super Bowl spots.
Tim Calkins, a marketing professor for the Northwestern University's Kellogg School of Management, said this was "almost the most astonishing development on Super Bowl."
"It's a very sad reflection of where we are in the economy right now: Sell us your precious items and we'll melt them down into cash," said Calkins.
But it didn't feel like a recession for NBC, the game broadcaster, which walked away with $206 million in advertising revenue, a record take. The network charged an average of $3 million for a 30-second spot, an all-time high, and it had no trouble selling out in spite of the fact that the game's audience was 6% down from last year.
Ads reach out to disgruntled employees
Some of the most popular spots spotlighted Americans' anxiety over the job market. AdvertisingAge and the Kellogg Super Bowl Advertising Review gave strong rankings to Monster.com and Careerbuilder.com.
These companies tapped into office malaise by using the images of a moose's rear end perched over an office worker's desk, and a toe-picking cubicle neighbor wearing a Speedo.
A Doritos commercial from FritoLay also turned heads, nudging aside Anheuser Busch for number one in USA Today's ad ranking. The commercial, which used under-the-belt humor to spread its message, was one of nearly 2,000 entries submitted by amateurs for a $1 million jackpot.
Brewer Anheuser-Busch, with its ongoing series of Clydesdale commercials, and Bridgestone, which used Mr. and Mrs. Potato Head to sell tires, also scored high on USA Today's rankings.
3D ad decried as 'over the top'
But some of the ads fell flat, including the SoBe Lifewater commercial, which drew low scores from Ad Age and Kellogg. This 3D ad incorporated SoBe's animated lizards with NFL players in white leotards, and characters from the upcoming DreamWorks movie "Monsters vs. Aliens."
Ahead of the game, SoBe made 3D glasses available at retail displays, but some experts believe that the gimmick was part of the problem.
"It was not obvious to me how you were supposed to get the glasses," said Calkins of Kellogg. "[The ad] was so over the top that people missed the message and missed the brand."
Kathy Sharpe, chief executive of Sharpe Partners, an online advertising agency, said "since I wasn't watching it in 3D, I'm not sure that it worked at all."
The Super Bowl is considered a unique advertising venue, because over the years many viewers have developed more of an interest in the commercials than the game itself. But this year, the 27-23 Steelers-Cardinals victory was only decided in the last three minutes, keeping the true fans glued to their tubes.
"I thought that they were all pretty underwhelming," said Steelers fan Sharpe, referring to the commercials. "It might be because I was so focused on the game."

Features

These Fortune 100 employers have at least 350 openings each. What are they looking for in a new hire? More

It would be the world's second-biggest economy. See how big companies' sales stack up against GDP over the past decade. More