Treasury: $1.15B to 42 banks
TARP funds are meant to increase lending and ease the credit crunch.
Tracking the bailout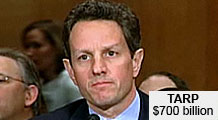 NEW YORK (CNNMoney.com) -- The Treasury Department on Tuesday detailed 42 local banks that recently received a combined $1.15 billion in government bailout funds.
The funds, given to institutions in 25 states, were distributed through capital investments under the Troubled Asset Relief Program, or TARP.
TARP is the $700 billion bank rescue enacted last October that was intended to increase lending. Treasury received $350 billion of the funds immediately and said it has now invested $195.3 billion in 359 institutions in 45 states and Puerto Rico.
The Obama administration said it is intent on fixing the banks. What it will do with the next $350 billion in TARP funds and what its actions will do to the ailing financial system remain to be seen.
Newly installed Treasury Secretary Timothy Geithner has said officials are looking at a "range of options" to shore up confidence in big banks. He said Wednesday the administration expects to make its proposals public "relatively soon."
The local banks that received the most money from the $1.15 billion include Flagstar Bancorp of Michigan at $266 million, PrivateBancorp of Illinois at $243 million for and W.T.B. Financial Corp. of Washington and Anchor BanCorp of Wisconsin, each of which got $110 million.
Other payouts ranged from $3.67 million for AMB Financial Corp. of Indiana to $39 million for the Peoples Bancorp in Ohio.
Farmers and Merchants Bank, whose customers are mostly farms and rural businesses, became the first Nebraska bank to receive Treasury investments through the program.
Anchor BanCorp and Legacy Bancorp became the first Wisconsin banks to receive TARP investment funds.

Features

These Fortune 100 employers have at least 350 openings each. What are they looking for in a new hire? More

It would be the world's second-biggest economy. See how big companies' sales stack up against GDP over the past decade. More