Massive job losses: What's left to cut?
It's been a solid year of slow sales and job cuts - and businesses are running out of options for further cutbacks.
Photos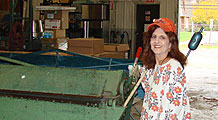 (CNNMoney.com) -- For the 12th consecutive month, small businesses made deep staffing cuts: Companies with 500 or fewer workers cut 430,000 positions in January, according to the latest ADP (ADP, Fortune 500) employment report, released Wednesday.
Small employers are typically the last to cut jobs and the first to create them, which makes January's job-loss numbers a worrying omen for the rest of the year. Joel Prakken, chairman of ADP's research partner, Macroeconomic Advisers, doesn't expect improvement any time soon.
"We believe that for the first half of this year, the economy will continue to contract," he said. "There may be growth in the second half, but it will be sluggish."
More than one year into the ongoing recession, business owners say they're running out of options for cutting costs.
"The last thing we want to do is lay off," said Nan Gehlen, who runs aluminum boat manufacturing company Ottercraft in Kingston, Wash. "We make a lot of sacrifices to preserve our work force, to give them high salaries and good benefits."
But in the past six months, Gehlen has had to gradually reduce her staff of 15 to five. All around her, businesses are closing down. Personal boat orders have dropped to near zero - people aren't looking to invest $40,000 in a boat when they're worried about their daily living expenses. Corporate orders have slowed as well, which leaves Gehlen relying on government contracts. She recently procured one, but needs financing to fulfill the order. Turned down for a loan or credit line by every bank she's approached, Gehlen has had to personally float the cash she needs to keep operating.
"It's getting to a point where I have no money to give any more and I'm hanging on by my bootstraps," she says. "I realize that without employees, we can't get the work done. But if I can't afford them, it's a catch-22."
Likewise, Sarah Penewell, owner of the Sarah boutique in Denver, was forced to lay off one full- and two part-time employees in December. That leaves her and her co-owner pulling 60-hour weeks to run the shop alone.
"We're down 20%, but we're trying to stay positive," she said. With no one left to lay off, she's now relying on other cost-cutting tactics. "For the spring inventory, I've asked for breaks from the vendors, such as free shipping or a 10% discount on orders. I pass those savings on to my customers, so that they're more enticed to purchase."
Eyes on the stimulus
Penewell said that so long as things don't get worse, her store will stay afloat. She hopes the long-anticipated stimulus package President Obama and Congress hope to pass this month will slow the economic turmoil.
"For us, the most important thing is for my customers to keep their jobs so they can continue buying," she said. "If I don't have customers, it won't matter if I can get a loan or not. I hope the stimulus addresses the needs of industries that impact Colorado, such as energy, tech, and telecom - if they stay strong, we'll have customers."
But Prakken doubts the tide can be turned that quickly.
"Macroeconomic Advisers projects another 3 million layoffs, plus or minus, in next 12 months," he said. "That means for the next year, we'll be seeing layoff numbers that will be about as drastic as the ones we're seeing today."
In Kingston, Gehlen is trying to keep her four-year-old business afloat with an array of cost-cutting measures. She's cut her inventory and stopped paying herself a salary, and is considering moving to smaller, less expensive facilities, since orders for larger boats have dried up. Simultaneously, she's working to improve her company's visibility by pounding the pavement at trade shows and customer service by extending warranties.
Until sales pick up, what Gehlen needs most is access to interim capital. She says she would like more accountability on the government bank bailouts: When Uncle Sam lends money, she wants to see tracking on how much of that cash filters through to creditworthy borrowers.
Small businesses like Gehlen's are like the canary in the coal mine when it comes to employment forecasts. When conditions improve, they're usually the fastest to start hiring again.
"I expect that [small businesses] will be first to come out of it," Prakken said. "Coming out of the '01 recession, small businesses lead the way. They were first to have employment numbers turn positive - almost two years before large companies stared hiring again. They will be vanguard of any change."

To write a note to the editor about this article,
click here
.



My dream is to launch my own business someday. Now that it's time to choose a major, I'm debating if I should major in entrepreneurial studies or major in engineering to acquire a set of skills first. Is majoring in entrepreneurship a good choice?
More
- Spate, Orange, Calif.

More Small Business

Next Little Thing 2010