Make Believers
Geeks, freaks and entrepreneurs collide at Maker Faire.
Photos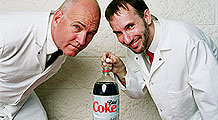 (Fortune Small Business) -- They came by the thousands: rocket builders and knitting enthusiasts, weavers and welders, blacksmiths and bicyclemakers. They brought flamethrowers, catapults and a two-story robot that spat Ping-Pong balls. They taught visitors how to make ice cream with liquid nitrogen and how to turn old socks into plush monsters.
Welcome to the weird world of Maker Faire, a giant melting pot of science geeks, do-it-yourselfers and entrepreneurs. Since the event launched in San Mateo, Calif. in 2006, it has attracted a growing number of innovators seeking to catalyze their startup businesses. The California gathering was so successful that it spawned a second Maker Faire in Austin, which attracted 20,000 visitors in 2007. A year later, 32,000 attendees packed Austin's Travis County Expo Center. This year's Faires, in May (San Mateo) and October (Austin), promise to be the largest yet.
The most recent Austin Faire teemed with accidental entrepreneurs who had dreamed up a fun product or fixed a problem that bugged them, and only later discovered a market. For most of these creators, several of whom are featured here, love of craft trumps the profit motive.
"They see small ways to change the world or change their lives," says Dale Dougherty, publisher of Make magazine, which hosts the Faire. "They might make a million dollars, but that's not their life's goal."

In the pages ahead, we invite you to meet some of the Makers.

click here
.



My dream is to launch my own business someday. Now that it's time to choose a major, I'm debating if I should major in entrepreneurial studies or major in engineering to acquire a set of skills first. Is majoring in entrepreneurship a good choice?
More
- Spate, Orange, Calif.

More Small Business

Next Little Thing 2010