Stimulus: House and Senate vote Friday
The House will vote early Friday on a revamped stimulus plan, followed by the Senate later in the day.
Tracking the bailout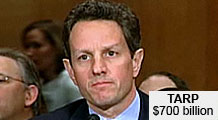 WASHINGTON (CNN) -- The Senate plans to vote on the $789 billion compromise stimulus late Friday after an all day debate, Majority Leader Harry Reid said Thursday from the chamber floor.
The vote will be held open for the arrival of Sen. Sherrod Brown, D-Ohio, who will be attending a wake for his mother until about 8 p.m., Reid said.
The House, which had originally planned to vote on the package Thursday, was forced to delay until Friday after many rank-and-file Democrats who were unhappy with some spending cuts demanded time to read the compromise measure.
The decision to put off the House vote was made following a Thursday morning closed-door Democratic meeting, the second one in less than 24 hours to discuss the legislation.
Many lawmakers left Thursday's meeting expressing resignation that there is not much they can do to change the spending measure, which they said does not go far enough to solve the current economic troubles.
Members of two liberal factions, the Congressional Progressive Caucus and Congressional Black Caucus, told their Democratic leaders that they are not pleased with the compromise spending bill and that they need sufficient time to read the voluminous legislation before voting on it.
"My fear is that it will be enough to slow but not stop our descent into a real depression," said Rep. Jerry Nadler, D-N.Y., a member of the Progressive Caucus. Nadler would not say whether he'd support the measure, but "considering the Senate is ruled by the filibuster - we did about the best we could. It will save 3.5 million jobs."
Another member of the Progressive Caucus, who requested anonymity, said the meeting was a "venting session," adding with a wry smile, "In my career, I've never seen so much money and so many angry people."
Other Democrats also have concerns. Freshman Rep. Dan Maffei, D-N.Y., said he learned a lesson from watching Congress approve a bailout for Wall Street that was not as advertised.
"One of the reasons I was elected, and I am a new member, is to make sure we do look at the legislation, we know what's in it," Maffei said.
"I want to know - are the resources actually going to be used for what we say we want them to use? Are they actually going to create jobs? I think they will. But I want to make sure and I want to make sure these jobs are coming to my district," he said.
Rep. Charlie Rangel, D-N.Y., a member of the Congressional Black Caucus and chairman of the House Ways and Means Committee, had the job of defending the bill to his fellow lawmakers.
Calling the meeting "very good," Rangel applauded his role as the House's chief tax writer by saying, "The [spending] portion is still in motion, but the tax provisions were very well-received."
Most lawmakers, staffers and reporters on Thursday were depending on just a handful of details given out the day before by Reid, Senate Finance Committee Chairman Max Baucus, D-Mont., and two key negotiators, Sens. Susan Collins, R-Maine, and Ben Nelson, D-Neb.
On the House floor Thursday morning, Rep. Ed Perlmutter, D-Colo., took on the task of explaining the compromise bill.
As he ran through broad categories such as tax cuts and energy spending, Rep. Virginia Foxx, R-N.C., pounced.
"You talk about this bill as though you have read the bill," she said. "And I want to ask, has the bill been made available to the Democrats in the chamber?"
"Uh," Perlmutter paused. "I have seen the House version, and I have seen the Senate version, and I have highlights of the compromise." He said he had not seen a written version.
As staff hustled to put the deal in print, House Speaker Nancy Pelosi postponed a news conference planned for 10:45 a.m. ET to 3 p.m. Thursday.
Pelosi's office said the move was related to the Abraham Lincoln birthday celebration and a visit from President Barack Obama at lunchtime.
Congress expects to send the stimulus package to Obama's desk by the Democrats' self-imposed deadline of Monday after lawmakers apparently worked around a disagreement over education funding.
Senators had slashed direct funding for school construction - a top priority for some Democrats - and instead set aside money for governors to use on school modernization and rehabilitation. House Democrats did not think that would ultimately be targeted enough to school districts in need.
In the Senate's compromise version, $10 billion was added to the $44 billion allocated toward "state stabilization" to boost school infrastructure.
Using the state stabilization vehicle, the money is given to governors to parcel out. But aides said House members would rather the $10 billion go through Title I, meaning the funds would go to areas with a higher percentage of children from low-income families.
Here's how the compromise bill is expected to affect individuals:
Most individuals will get a $400 tax credit, and most couples will get an $800 credit. That amounts to an extra $13 a week in a person's paycheck, starting in June.
Many students will get $2,500 tuition tax credit.
First-time home buyers may qualify for a tax credit of up to $8,000.
People who receive Social Security will get a one-time payment of $250.
Democratic sources said 35% of the bill deals with tax cuts and 65% with spending.
Reid praised the three "brave" GOP senators who broke ranks to the support the bill - Collins and Olympia Snowe of Maine and Arlen Specter of Pennsylvania.
Of the 219 Republicans in Congress, they were the only three who backed the bill.
Senate Democrats must hold on to at least two Republican votes to get the 60 votes needed to keep GOP opponents from blocking the bill. Not a single Republican voted in support of the House version of the bill, but House Democrats had enough votes to pass it despite 11 Democrats voting against it.
CNN's Ted Barrett, Lisa Desjardins and Brianna Keilar contributed to this report.

Features

These Fortune 100 employers have at least 350 openings each. What are they looking for in a new hire? More

It would be the world's second-biggest economy. See how big companies' sales stack up against GDP over the past decade. More