Housing fix will help many, but not all
Housing counselors and lenders both say Obama's program is a comprehensive approach that attacks the root of the economic crisis. But it won't help everyone.
Map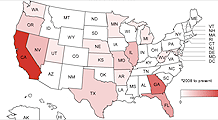 NEW YORK (CNNMoney.com) -- The $75 billion foreclosure prevention program announced Wednesday by President Obama will go a long way to helping millions of distressed borrowers and to stopping the housing market's downward spiral, experts said.
The multipronged plan, which calls for modifying loans for borrowers both at risk or already in default and for allowing those with little or no home equity to refinance into more affordable loans through interest-rate reductions, has made some strange bedfellows.
"It cuts the Gordian knot that has eluded everybody," said Scott Talbott, senior vice president of government affairs at the Financial Services Roundtable, a lobbying group. He called it a "solid approach" to preventing foreclosures.
"It's a huge, huge, huge step in the right direction," said Kathleen Day, spokeswoman for the Center for Responsible Lending, a consumer advocacy organization. "It gets at people in different stages of distress and really tries to get everyone moving in the same direction."
This is a very different reaction than the ones that greeted most of the Bush administration's foreclosure prevention efforts, which consisted mainly of an assortment of voluntary loan modifications programs with no government backing.
Critics often said the previous efforts did not go far enough to addressing foreclosures, and they likely were right. Fewer than half of the loans modified in January 2008 were still current in November, mainly because the majority of the adjustments did not reduce the monthly payment burden, according to a report by Alan White, a law professor at Valparaiso University.
Unlike the previous measures, Obama's plan uses government funds to provide incentives to borrowers, loan servicers and mortgage investors to modify loans to affordable monthly payments. And it offers help to at-risk borrowers before they stop paying. The administration says it will help up to nine million people avoid foreclosure.
The plan didn't satisfy everyone. Congressional Republicans took the opportunity to blast the president for using taxpayer dollars to bail out irresponsible lenders and borrowers. Others said the program could have gone further.
For example, the loan modification program would be more effective if it were mandatory and included principal reduction. Lowering loan balances is the best way to avoid foreclosures at a time when severe declines in home values have left many with loans worth far more than their houses, some experts said.
"The plan may not be aggressive enough to effectively deal with the scale and magnitude of this epidemic," said John Taylor, head of the National Community Reinvestment Coalition. "The plan's voluntary nature may blunt its impact."
Incentives galore
Though voluntary, the program contains incentives for servicers to work with borrowers.
The plan calls for servicers to reduce interest rates so that a person's monthly obligation is no more than 38% of his or her income. Then the government would kick in money to bring payments down to 31% of the homeowner's income. It also gives servicers money for modifying loans, and additional funds if borrowers stay current or are helped before they fall behind. Finally, it is developing a $10 billion insurance fund that will pay mortgage holders based on declines in a home price index.
Though the program is voluntary, these measures will entice servicers to more aggressively modify loans, experts said. Another reason servicers will be more willing to modify: The Obama administration is pushing for a change in the bankruptcy laws to allow judges to adjust loan terms.
"There are a lot of incentives for servicers and lenders to step up to the plate," Day said.
Subsidizing the interest rates makes it much more likely servicers will participate, said John Vogel, adjunct professor of real estate at the Tuck School of Business at Dartmouth College. It minimizes the losses the banks have to take, while making it more likely the borrower can afford the payment.
"It makes it a much safer loan," Vogel said.
Helping people before they default
A main criticism of previous modification programs is that borrowers only qualified if they had stopped making payments. This frustrated those who didn't want to wreck their credit histories by going into default and prompted others to stop making payments just to qualify for relief.
Under Obama's plan, both those at-risk and in default qualify for loan modifications. Also, many borrowers who are current with their payments but have little or no equity in their homes can now qualify to refinance to take advantage of lower interest rates.
"Not letting people fall into delinquency before they get help is an important factor they've added to the program," said Ken Wade, chief executive of NeighborWorks America, a national community revitalization group chartered by Congress whose board is made up of bank regulators. "It attempts to get ahead of the problem."
Obama has also managed to get many players in the financial industry to accept allowing bankruptcy judges to modify loan terms, a measure they have always fought. What makes it more palatable is that his program gives borrowers a lot of options to get back on their feet before they turn to bankruptcy.
"The key is to ensure that cramdown is truly a last resort," Talbott said.
If servicers truly embrace modifying loans, it will keep more people out of bankruptcy, experts said.
"If you allow this provision, fewer people will have to file," Day said.

Features

These Fortune 100 employers have at least 350 openings each. What are they looking for in a new hire? More

It would be the world's second-biggest economy. See how big companies' sales stack up against GDP over the past decade. More