Summer jobs dry up
Graduate students are finding that their main stream to full-time employment has evaporated.
Photos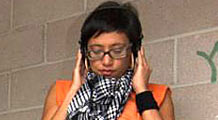 NEW YORK (CNNMoney.com) -- With hiring at a slowdown, big firms are pulling back their summer recruiting, leaving many students in law, finance and other professional fields high and dry.
In recent years, summer internship programs have become a promising avenue toward post-graduation employment. But that trend will likely reverse this year as employers pull back on hiring altogether.
A majority, or 56%, of career-services officers said on-campus recruiting was down more than 10% this winter, according to a recent survey by the MBA Career Services Council. And, according to the National Association of Colleges and Employers, the preliminary results of a recent survey will show a decrease in hiring of new graduates this year.
"[Employers] don't know what's happening six months from now," said Pamela Bierman Mittman, the assistant dean of career services at New York University's Stern School of Business, "this year they seem to be less confident about the actual hiring targets this far ahead. They're not making long-term commitments yet."
In the good old days, students would line up a 10 to 12-week summer internship with a near guarantee of a full-time job to follow. Traditionally those offers were made in August or September with start dates in July to September of the following summer.
But as this summer nears, students are finding that many of those opportunities are gone.
"In the past, the internship position was one of the major routes in terms of getting a job," according to Edwin Koc, the director of strategic and foundation research at NACE. But that path is not as readily available as it used to be, he said.
Now fewer firms are offering summer internships altogether, and those that still have programs in place are hiring fewer students this year and are less likely to make full-time offers at summer's end.
"There's a general shrinking," explained Maxine Sugarman, the director of career services at Pace University in New York. "We're seeing very limited opportunities for MBA students in terms of typical summer opportunities that could translate into a full-time opportunity."
That's particularly true for the banking industry, Mittman said, but it is "pretty consistent across industries."
Even the traditionally recession-resistant legal industry is not immune. Large firms that typically hire students as summer associates with the intention to hire them for permanent employment have cut back too, according to Rachel Littman, assistant dean for career development at Pace Law School.
"Many students didn't end up getting offers after last year, Littman said, and "firms don't want to do that again so they're scaling the summer program back this year."
Students get stressed
For students anxious to line something up for this summer and long term, the tension is great.
"It's the worst right now," says Matthew Rodrigue, 23, who is getting a Masters in Finance at Pace.
"I've applied to 80 positions or so, so far," he said. Rodrigue has one interview for an internship lined up this week, which he is optimistic about. Ideally, Rodrigue hopes that a summer job offer will be followed by a full-time offer, even though those situations are harder to come by now.
At the law school, "everybody is scrambling," according to Littman. "The phone has been ringing a lot from people who are worried."
For those pursuing a career in the legal industry, Littman says law students should be flexible in considering temporary positions, or accepting their second- or third-choice firms instead.
And for those students committed to careers in investment banking and private equity, NYU's Mittman encourages them to actively participate in career fairs, work with a career counselor and network with alumni and other students.
"For students that are anxious, the best way to bring that anxiety back down is to keep focused," she said.
While there are still opportunities within banking, Sugarman suggests that graduate students consider alternative fields such as accounting, corporate finance, government and the nonprofit sector. Or "relocate to areas with more opportunities," she said.
"We're telling students that you just have to be more proactive, it'll take longer," Littman added. "People are worried but everybody is in the same boat."

Have you found a job recently? We want to hear from you. Send us an email and attach a photo. Tell us where you got hired and how you landed the job and you could be profiled in an upcoming story on CNNMoney.com.

Features

These Fortune 100 employers have at least 350 openings each. What are they looking for in a new hire? More

It would be the world's second-biggest economy. See how big companies' sales stack up against GDP over the past decade. More