GM: 'Substantial doubt' about survival
Automaker pummeled by weakening demand and mounting losses discloses that its auditors have raised serious questions about its future.
Photos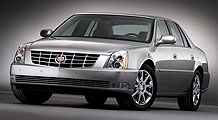 NEW YORK (CNNMoney.com) -- General Motors Corp. said in a government filing Thursday that its accounting firm has found there is "substantial doubt" about the automaker's ability to survive.
The embattled automaker made the disclosure in a 480-page filing with the Securities & Exchange Commission.
The filing's grim tone is not a surprise. GM has sustained large and continuing losses that have now reached $82 billion over the last four years. It had previously said it needed additional federal loans, coupled with improved sales, to remain in business.
GM said in a separate statement that it is confident it will be able to turn around the business if it gets the federal help it is seeking and when consumer demand for autos returns.

"The auditor's opinion has no impact on the aggressive actions we are taking to restructure our business for long-term viability," GM said.
Still, Thursday's filing presents another hurdle the automaker will have to clear as it makes the case that it deserves additional taxpayer support going forward.
The Obama administration, under the terms of the $13.4 billion in federal loans GM has already received, must determine that the company's plans make it viable in the long run.
The government must determine that GM has a "positive net present value" or else demand repayment of the loans within 30 days - a development that would plunge the company into bankruptcy and quite possibly force it out of business.
The government has wide latitude in how it judges the company's net present value, based on assumptions it makes about future sales, car prices and costs for the company going forward. The administration clearly does not want to force the largest U.S. automaker into bankruptcy.
The GM filing disclosed that the Treasury already agreed to waive requirements that the automaker meet certain terms of the original loan agreement, including that it win agreement with creditors to convert two-thirds of its unsecured debt to equity by Feb. 17.
But even if the Obama administration continues to give support to GM (GM, Fortune 500) and rival Chrysler LLC, which has also received federal loans, Thursday's filing could create problems in its relations with suppliers and banks.
For example, concerns about GM's future could cause companies that supply it with parts start to demand cash on delivery from the cash-starved automaker, according to GM's filing.
While parts makers would be reluctant to damage their largest customer with such a demand, they may have no choice because of GM's filing. Those parts makers' own auditors and banks could use the doubts raised by GM's auditors to raise questions about their own future.
Privately held Chrysler does not have to file a year-end financial statement with the SEC. Last week,Ford Motor (F, Fortune 500) said its auditors have not substantial doubt about its future. Ford went into this auto crisis with a much stronger cash position than GM or Chrysler.
GM said Thursday auto sales, which have plunged more than 40% in recent months, must rebound by next year if it is to survive.
Meantime, GM also said it needs additional federal loans to stay in business.
GM received $13.4 billion so far, and it has asked for up to $16.6 billion more. In addition, it is seeking $7.7 billion in loans to convert production from light trucks to more fuel efficient cars under an Energy Department loan program. And it is also seeking aid from foreign governments for some of its non-U.S. operations.
"The failure to obtain sufficient funding from the U.S. government or governments outside the United States may require us to shrink or terminate operations or seek reorganization for certain subsidiaries outside the United States," the filing said.
"If we fail to obtain sufficient funding for any reason, we would not be able to continue as a going concern and could potentially be forced to seek relief under the U.S. Bankruptcy Code," GM added.
GM's stock was down 17% in midday trading.

Features

These Fortune 100 employers have at least 350 openings each. What are they looking for in a new hire? More

It would be the world's second-biggest economy. See how big companies' sales stack up against GDP over the past decade. More