Cutting your own salary before cutting staff
When sales are slow, business owners are the first to feel the pain in their paychecks.
Photos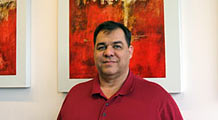 Photos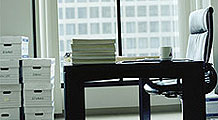 Map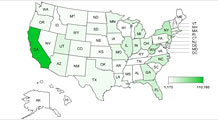 NEW YORK (CNNMoney.com) -- Think being your own CEO means you can't be laid off or have your paycheck pared back? Not quite. Half of the small business owners polled in a recent survey said they've cut their own compensation in response to the economic downturn.
The survey, conducted in December by office supplies retailer Staples (SPLS, Fortune 500), surveyed owners and senior executives at companies with 20 or fewer employees. Half said their clients are taking longer to pay bills than they did in the past, and 44% of the respondents said they're "seeking distractions from business issues that are upsetting."
Paul Gemellaro, CEO of Accutech Photo Machining (APM) in San Fernando, Calif., says that cutting his own salary is the best way to keep his company healthy. APM, founded in 1989, manufactures metal parts and prototypes. Three years ago, after rising inspection fees eroded the company's margins, Gemellaro decided to trim expenses by reducing his paycheck.
The latest recession has been taking its toll. "Our roughest time was last summer. May through June was terrible for APM," Gemellaro says. "It was almost like the phone was shut off."
Things haven't improved: January was APM's worst month in 10 years. Gemellaro, who once had a staff of 20, starting laying off employees - but he also knew he would need to deepen his own pay cut to stay afloat. Today, he's left with 7 employees and a salary that has dropped from $75,000 to less than $40,000.
Companies of all sizes are ruthlessly cutting costs, but small business owners are particularly prone to taking the hit themselves when times are tough. It's an instinctive move, says John Challenger, CEO of outplacement firm Challenger, Gray and Christmas.
"Owners take care of employees - their biggest asset," says John Challenger, CEO of outplacement firm Challenger, Gray and Christmas. "They just know they've got to make the business survive, which may mean making personal sacrifices. It's their creation and they are responsible for it, so to keep it going and growing and healthy is paramount."
Business owners new to entrepreneurship can still feel that sense of deep obligation to their company. Richard Ray and his wife, Laura Lee Ray, opened their mobile pet spa business, Zoom Groom, last May in Crestview, Fla. They have yet to cut themselves a check.
Richard, an Air Force vet, committed to helping his wife pursue her dream of owning a mobile dog grooming business. Banks wouldn't loan them any startup capital, so the pair collected all the extra cash they could find, including tax refunds and last year's stimulus checks, to buy a secondhand van with 100,000 miles on it and used engine parts to keep it running.
Then Richard, 51, had a heart attack. With medical bills piling up, he defaulted on his mortgage. The Rays had to make the decision between keeping the business or the house Richard's family had lived in for 15 years.
"We saw that the house was depreciating and that the business had potential, so we took a gamble," he says.
The house went into foreclosure. The Rays moved in to a rented house, and the couple put all their money and energy into the business. Richard took on the accounting and marketing responsibilities while Laura Lee honed her grooming skills.
The couple's persistence is just beginning to pay off. After months of slow sales, business started picking up in the past few weeks. Last month's bills, for the first time in a year, were paid entirely with business profits.
"Since I didn't have to raid personal funds to keep things moving, I admit I've slept better," Richard says with a laugh.
Bartering and scrimping
Still, it will still be a while before the couple is able to take a salary from the business. Richard's Air Force retirement pay is covering the rent, but without a business income, the Rays are strapped when it comes to paying for necessities. They've omitted all luxuries like movies and restaurants from their lives, and they barter with other area business owners for services. The Rays' youngest daughter, a high school senior and part-time worker at Taco Bell, takes care of buying groceries.
"That's a lot to ask of a 17-year-old, but she's good about chipping in for the survival of the business," says Richard, who intends these measures to be temporary. "This area is recession resistant, because we have so many military people and defense contractors. And a slew of military programs are scheduled to move here, with thousands of military personnel. We're waiting for the cavalry to arrive."
In the meantime, the Rays are keeping their fingers crossed that the van, cobbled together from spare parts, doesn't give out.
APM's Gemellaro is also doing whatever he can to keep his business running until conditions improve. He's frozen all capital purchases until the economy stabilizes.
"My employees are now on a four-day work week," he says. "Of course, I'm still on a six-day work week."
If Gemellaro has to reach deeper into his own pockets to keep his employees, he says he will. Part of that decision is pragmatic: When APM lands a prototype project, it has to turn around results in as little as 60 days. That can't happen without trained employees ready to dive right in.
But emotions also play a part in Gemellaro's choice to cut his own pay before cutting staff.
"Most of my people have worked here a long time. They're my friends - my best friend Mike is the president of the company," he says. "Maybe I'm just old fashioned, but they've always been there for me, so I'm going to be there for them."

To write a note to the editor about this article,
click here
.