Motivating your staff: Carrots or sticks?
Expert advice for a pharmacy owner struggling to retrain problem staffers.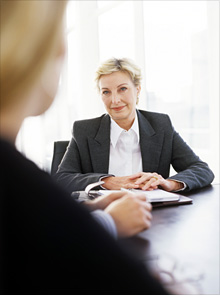 Photos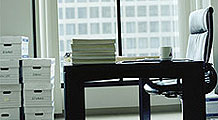 FARMINGDALE, N.Y. (CNNMoney.com) -- Ken Villani, president of Cottage Pharmacy and Surgical in Woodbury, N.Y., is having trouble with some of his store's 50 employees. Particularly in this market, he cannot afford to risk alienating customers with poor customer service. He's brought the issue to The Alternative Board (TAB), a monthly peer-advice gathering of business owners in Farmingdale, N.Y., to see what tips other entrepreneurs have for addressing the problem.
Villani tells the group he recently hired a consultant to implement an employee performance review program. Now the consultant is gone, and Villani is not sure how to continue the momentum.
"The program did stress out many employees," Villani admits. "They were not used to being told what to do or being held accountable. The process included a review by their manager, during which time they were told their performance will affect their salaries and bonuses."
The other TAB members, who run companies in a variety of industries, ask if the program worked. Villani says it did - for a while. He's realized that bad habits are tough to break, particularly for a handful of staffers.
"It's little things they don't do correctly - like answering the phone the proper way or letting customers know about discounts when they check out," he says. "And while some managers make sure they do these things, others let it go. I don't know who should be held accountable or how tough I should get."
Cottage Pharmacy already has a leg up on big pharmacy chains like CVS (CVS, Fortune 500): In addition to running a retail shop, it offers home care services such as equipment rentals and in-home attendants. It's also got history to lean on - Cottage was established more than 30 years ago, and customers like the perks it makes available, such as home delivery of medication.
"It's true that rules peter out when people start feeling at ease - it's human nature," says John Dugan, a partner at Farmingdale Physical Therapy. "The process needs to be kept fresh, either through incentives or hands-on managing."
Most TAB members like the idea of incentives.
"If you have a contest for gift certificates, for example - people respond to challenges and competition," says James Buonfiglio, president of employee benefit brokerage C&B Consulting Group in Syosset, N.Y. "Plus, it's operant conditioning. It will reinforce the behavior, even if the cashiers don't feel particularly comfortable telling customers about sales."
Ken thinks about this for a moment. "I really want employees who care about the business - not about the contests. Right now, I can see who cares and who doesn't."
Mark Rickard, president of direct marketing firm Rickard List Marketing in Melville, N.Y., is also leery of offering rewards.
"I don't think people should get rewarded for just answering the phone correctly," he says. "They should just do it."
"Well, then why don't you just sit down with the ones who aren't as motivated and talk to them about why they aren't sticking to the script?" asks Buonfiglio.
"I have, but I also have to pick my battles, you know?" Villani says.
Dugan leans in. "You also have to realize that not every employee will be passionate about the business. Make sure you're managing your expectations. Look at the Giants - "
"Football or baseball?" someone interrupts.
"Either team," he says. "Any team. Look at every team and you will see that there are the superstars and then there are the second tiers. But you need all of them to win the game. Business is the same way."
Villani wrinkles his forehead. "I realize not everyone will be outstanding. But is answering the phone correctly really so much to ask of them?"
Everyone around the table agrees that should be standard behavior - but they all start talking at once, overlapping, with clashing advice about how to enforce it. Steve Davies, the group's facilitator, settles the chattering crowd. He remembers that Dennis Labriola, one of the other business owners at the table, once ran a "kangaroo court" to address similar issues at his business. Davies asks him to share the details.
"It was for things like not setting an away message when out of the office or not turning off the cell phone in meetings," explains Labriola, president of Farmingdale, N.Y.-based Impact, a firm that develops software for police departments. "I'd charge $5, which went into a kitty that would in turn go towards a corporate event. At first it pissed people off, but in time they started to govern themselves. You see, it's a culture change. Eventually we stopped collecting."
Not everyone is crazy about the idea, especially Owen Mester, president of bakery O'Wayne New York Enterprises in Maspeth, N.Y. "Don't just point out the negative. You need to also accentuate the positive," he says. "Believe me, you will get somewhere when you bring attention to a good thing. It's not about treats or money - that will turn you into a policeman."
Villani is concerned that the employees might feel stressed with an incentive system. But he's still at a loss for how to change their behavior.
"I think it comes down to leadership, honestly," says Buonfiglio. "Incentives work to a degree, but you run the risk of good employees getting everything and having mediocre ones get resentful."
Dugan nods his agreement. "I don't believe any incentive alone will make up for the presence of a good manager. Make sure your managers are addressing the issues. It should be up to them to instill a warning system and sit down and talk to them. And if anyone digs their heels in, then get 'em out."

Could your business use a makeover? In general, successful Makeover candidates are profitable small companies with at least $1 million in annual gross revenues. To submit your firm for consideration,
e-mail the FSB makeover editor here
. Please describe your business briefly, provide your most recent and projected revenues, and explain why you think your company would benefit from a Makeover.