How census stimulates the economy
The federal government is hiring 1.4 million people as part of its $14 billion decennial population count.
Map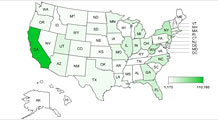 NEW YORK (CNNMoney.com) -- What do you call a federal program that's pumping billions into the economy and creating more than a million jobs?
Census 2010.
Though its not technically a stimulus operation, the upcoming decennial population count is helping boost the economy by putting 1.4 million people to work. The Census Bureau is also funneling money into local communities by renting office space and furniture and by buying equipment and supplies. And it is spending $212 million in advertising -- mainly in 2010 -- to urge people to return their forms.
Projected to cost $14 billion, Census 2010 is the most expensive ever in the nearly 220-year history of the population count. The bureau is also getting $1 billion from the federal stimulus package to augment operations, including increasing outreach efforts to minority communities and hard-to-reach groups.
The effort comes at an opportune time. With millions of Americans out of work and countless others suffering from reduced overtime and commissions, people are eager to land a government job, even if it's only for a few weeks.
For Francine Chussler, taking a census job allowed her to replace the money she lost when her realty business dried up. Hired in October as an assistant manager for recruiting in the Trenton, N.J., office, Chussler can ride out the poor housing market until her stint ends in September 2010.
The 56-year-old, who is paying for college for her two children, is thankful the bureau hired her. No other company would consider her because she didn't have a college degree, she said.
"In this market, I really needed to supplement my income," said Chussler, whose husband lost his job in January. "This made up the 50% I was missing."
Chussler is among the 10,000 people the bureau is recruiting for the 12 regional and 150 local centers that are already open. On top of that, the agency is now hiring and training 140,000 people to fan out across neighborhoods nationwide to check 145 million addresses using handheld computers. This is first time the agency is using this technology.
Salaries and tenures vary with position and region. Some managers are pulling in up to $34 an hour for two-year posts, while field staff earn between $10 and $25 an hour for up to 10 weeks' work.
In New Jersey, the jobless are jumping at the chance to earn $15 an hour for a few weeks, said Tina Roman, an assistant manager for quality assurance in the agency's Camden, N.J., office. The salary attracted a big crowd at a Vineland, N.J., job fair a few months ago.
"Their ears pricked up," said Roman, 29, who was hired in October for a two-year stint. "Our booth was busy the entire time."
The weak economy has made it easy for the agency to recruit. It met its target of testing 700,000 people for the spring field positions early and found that people with a wide range of backgrounds applied, officials said.
"This time, with very little advertising and pushing, we reached our goals," said Marilia Matos, the bureau's associate director for field operations. "People are desperate for jobs. They are willing to come."
Though most of the current posts are already filled, the agency once again will ramp up its testing and hiring this fall as it opens another 350 local offices and prepares to mail the census forms in March 2010. It will hire about 1.2 million people of the 3.1 million recruited.
Once the forms go out, staffers will spend the next several months visiting people who don't have addresses, following up with those who don't mail back their forms and resolving conflicting information on the paperwork. The agency expects it will have to reach out to more than 50 million households who won't respond to the initial mailing.
Operations will wind down by year's end. The bureau must deliver the population count to the president on Dec. 31, 2010.

Features

These Fortune 100 employers have at least 350 openings each. What are they looking for in a new hire? More

It would be the world's second-biggest economy. See how big companies' sales stack up against GDP over the past decade. More