A rare piece of good news for GM
Troubled automaker says it has more cash on hand than expected and no longer needs a $2 billion government loan this month.
Photos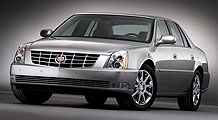 NEW YORK (CNNMoney.com) -- General Motors announced Thursday that cost-cutting efforts had improved its cash position enough to allow it to get by without $2 billion in additional federal loans later this month.
GM (GM, Fortune 500), which has already received $13.4 billion in government loans, is not trimming its request for up to $16.6 billion in additional federal help through 2011, however.
But GM chief financial officer Ray Young said in a statement that "the $2 billion of funding previously requested for March would not be needed at this time."
The company also announced that members of the Canadian Auto Workers union have ratified a contract to cover about 10,000 hourly workers at its plants there. The union said 87% of its membership at GM voted for the contract changes.
GM did not have an estimate for how much money that will save the company.
The battered shares of GM gained more than 13% in mid-afternoon trading on the announcement, although shares are still down 90% from year-ago levels.
Detroit gets thrifty?
GM has taken several high-profile steps to save money, such as not advertising during this year's Super Bowl and getting rid of corporate jets. GM spokesman Tom Wilkinson added that a wide range of smaller moves have helped the company conserve cash.
But he added that sales have yet to improve significantly since GM filed its request for more help last month. GM's U.S. sales are down 51% in January and February compared to the first two months of last year. Industrywide U.S. sales are down 39% during the same period.
GM and rival Chrysler LLC have both asked for additional loans to get them through the current sales slump. That request has yet to be approved by the Treasury Department.
The government is looking at the two companies' turnaround plans and current sales trends to decide whether they can be viable businesses for the long-term.
But GM's own auditing firm issued a statement last week saying there was "substantial doubt" about its ability to remain in business without additional federal loans and an improvement in sales.
GM is seeking $9 billion in loans sometime later this year, according to statements made to investors when it reported a fourth quarter loss of $9.6 billion late last month.
The company also said at that time that it anticipated that most of the cash it will burn this year will take place in the first quarter .GM indicated it needs between $11 billion and $13 billion in cash to continue operations.
The first loan of $4 billion on Dec. 31 allowed the company to end the year with $14 billion in cash on hand. It has received the additional $9.4 billion in government loans since then.
Chrysler, which has already received $4 billion from the government, asked for an additional $5 billion last month. The company said in its turnaround plan that it would need the money by March 17 or else it would run out of cash and have to start the process of shutting down its business.
Chrysler spokesman Stuart Schorr said Thursday there had been no change in the company's timetable for when more loans would be needed.
The other member of Detroit's Big Three, Ford Motor (F, Fortune 500), has a better cash position than its rivals and has so far not needed federal loans. But Ford has asked for a $9 billion line of credit in case sales continue to be worse than expected or if major suppliers have to halt operations.

Features

These Fortune 100 employers have at least 350 openings each. What are they looking for in a new hire? More

It would be the world's second-biggest economy. See how big companies' sales stack up against GDP over the past decade. More