Obama czar: Recovery date unclear
Larry Summers woos economists and business leaders, explaining the president's plan to stimulate the economy.
Tracking the bailout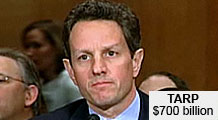 WASHINGTON, D.C. (CNNMoney.com) -- While touting the administration's economic plan on Friday, President Obama's top economic chief said it was unclear how long the fixes would take to work.
Larry Summers, director of Obama's National Economic Council, explained the administration's multi-pronged attack to stimulate the economy, help homeowners struggling to pay mortgages and relieve financial markets.
But Summers, speaking to a packed crowd at the think tank the Brookings Institution, also admitted that "no one can know just when and how its positive effects will be fully felt."
Summers did say that he saw some early signs that the economic crisis could be beginning to ease. He pointed to consumer spending, which collapsed during the holiday season but has stabilized more recently.
He also talked about how greed and lack of fear among Wall Street investors created a bubble, which has now deflated and sparked anxiety. "And this fear begets fear," he added.
"It is this transition from an excess of greed to an excess of fear that President Roosevelt had in mind when he famously observed that the only thing we had to fear was fear itself," said Summers, who served as Treasury Secretary under President Bill Clinton. "It is this transition that has happened in the United States today."
On the verge of taking their economic fix-it plan to the world stage in coming weeks when the G-20 meets, Obama's economic team has ramped up efforts to tout their economic plan to solve the nation's recession.
On Friday, Obama met with another economic adviser, Paul Volcker, and briefly reiterated the need to "make sure that we're putting in the pillars economically to deal with the short-term emergency, to stabilize the economy, and to put in the foundation for long-term economic growth."
Volcker, a former Federal Reserve chairman, explained that correcting the financial system is a "very complicated matter."
"There are big economic problems behind the financial system, too, that are going to take longer to work out," said Volcker, who chairs Obama's Economic Recovery Advisory Board.
Obama has said his principal goal, now that the stimulus package had passed, is to resolve the banking crisis. But the details his team has released on that front so far have been sketchy at best. The plan involves enticing private investment firms to borrow billions from the federal government to buy up toxic investments from troubled banks.
On the housing side, the Obama plan calls for companies to help struggling borrowers change their mortgage-loan terms, but it only applies to those whose payments are less than 31% of their monthly income or about 4 million people. In a different initiative, about 5 million homeowners who haven't missed a payment can refinance into lower-cost loans even if they have little or no equity.

Features

These Fortune 100 employers have at least 350 openings each. What are they looking for in a new hire? More

It would be the world's second-biggest economy. See how big companies' sales stack up against GDP over the past decade. More