Construction job boost: Short-term fix?
The president's recovery plan is laying the groundwork for new highway construction, but it's not a permanent fix.
Map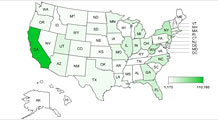 NEW YORK (CNNMoney.com) -- The federal stimulus plan is putting hard hats to work on the highways of Maine, Rhode Island and Maryland, at least for now.
They are some of the first beneficiaries of the U.S. government's stimulus plan to create jobs and rebuild the nation's transportation infrastructure. Hiring is brisk, but some contractors wonder if it will see them through the recession.
"The stimulus jobs in Maine will allow us to keep about 50 people we would have let go, and we're hiring 50 people more," said Christian Zimmermann, president of Pike Industries, a construction company that was recently awarded $31.5 million to repave a 24-mile section of Interstate 295, between Brunswick and Augusta. He said another $8-million federally funded project in New Hampshire would create or keep 75 jobs.
But these are not permanent positions. They are contract jobs measured in months, not years.
"I think things are going to peter off next year if we don't get more stimulus," said Zimmermann. "And let me tell you, it is something that makes me nervous. To have to lay these people off in 18 to 20 months would really stink."
The Rhode Island Department of Transportation recently awarded a $2.4 million contract to Warwick-based D'Ambra Construction to resurface a road in Tiverton. As a result, Michael D'Ambra, the company president, said he expects to hire up to 25 workers for a contract that lasts until October.
Beyond that, D'Ambra said he hopes to win more bids from the federal plan to keep his workers employed for two years, which might be long enough to pull through the current downturn.
Hard hat relief from Uncle Sam
President Obama's $787 billion economic stimulus plan is intended to save or create at least 3.5 million jobs through 2010. The plan includes $26.6 billion in infrastructure funds, aimed at generating 150,000 jobs in the hard-hit construction industry.
Federal funds are funneled through the states, which award the contracts to private contractors to build or rebuild roads, bridges and rail systems.
American Infrastructure, based in Worcester, Penn., was among the first of the contract recipients. On March 3, the company unveiled a $2.1 million contract to repave and add safety features to a section of highway in Maryland, near Baltimore and Washington.
At that time, Mark Compton, director of government affairs for American Infrastructure, said the contract was the "catalyst" to create 60 jobs, but for only six months. He said his company would continue to bid for additional contracts, and hopefully keep the workers employed.
John D. Porcari, secretary of the Maryland Department of Transportation, said that "many other projects have been awarded since then," and they "will last up to a year and a half, and in some cases longer."
They include a contract that recently put 30 to 40 workers back on the job at a train station in Laurel, between Baltimore and Washington, where rotted wooden platforms are being replaced, and shelters and accommodations for the disabled are being added, according to Porcari.
He expects job creation to continue, considering that the state has put 62 contracts up to bid. Maryland expects to save or create 17,500 construction jobs through a $610 million federal cash injection for infrastructure.
Another stimulus package?
John Lonski of Moody's Investors Service and David Wyss of Standard & Poor's believe the current stimulus may be enough to outlast the recession.
"From what I know about road projects and public works, it's going to last until the end of my life," Lonski joked. "These things have a tendency to take on a life of their own."
Lonski and Wyss both believe a recovery could begin by the end of this year. Obama has designed his job creation plan to last through the end of next year. So if the economists and the president are correct, then the job market would begin to recover naturally while the stimulus package is still underway.
But if they're wrong, then construction workers might be back on the unemployment line, creating the need for yet another federal cash infusion.
"Employers want to make sure that the recovery is real before they add workers," said Wyss. "I think if we get to the middle of 2010 and it looks like the private economy isn't going to pick up, then I think you'll see a 2011 stimulus package."

Features

These Fortune 100 employers have at least 350 openings each. What are they looking for in a new hire? More

It would be the world's second-biggest economy. See how big companies' sales stack up against GDP over the past decade. More