Adventure travel without a map
Tired of resorts? Try getting wet on a kayak tour of northwestern Scotland.
Photos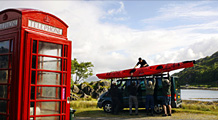 ARISAIG, Scotland (Fortune Small Business) -- As we carry our kayaks down to the rocky shore, the morning mist thickens into a steady drizzle. Dawn breaks in the distance, revealing a cloud-roiled horizon. The surrounding mountains disappear into the low-hanging overcast, making their barren flanks seem even more ominous. I shiver as I slip into the kayak, fasten my spray skirt and follow my companions out over the leaden waters of Loch Nan Ceal toward the tombstone peak of An Sgurr, 10 miles ahead. Leading the flotilla is our guide, a hardy Scandinavian named Olaf Malver.
All he knows about our destination is what he's seen on a map.
There aren't many industries in which customers are willing to pay extra for an untested product, but adventure travel is one of them. Malver, 54, is the founder and president of Explorers' Corner, a Berkeley-based outfit that specializes in rugged destinations like Antarctica, Siberia and here - the northwestern coast of Scotland.
Malver's clients want to explore exotic locales that the traveling masses haven't yet discovered. To keep customers interested, he undertakes an annual round of "exploratory" trips, testing new destinations. If the outing is successful, it's added to the company's roster (24 itineraries and counting).
These trips aren't for every customer. By their nature such adventures are rife with uncertainties. About half the clients are veterans of previous expeditions.
Malver interviews new clients beforehand to gauge their experience and fitness, but what he's really looking for is an open mind.
"You can't say, 'Well, at 4:45 we were supposed to do this, and we didn't,' " he says. "I tell people, 'We don't know what the hell we're doing, but it's going to be okay.'"
The sun breaks through soon after we launch, illuminating the Scottish Highlands in the distance. The sparse and jagged landscape, so forbidding in the gloomy mist, now seems lush and vibrant. Up ahead, a sleek, dark head emerges from the water: a gray seal. Black-and-white oystercatchers with bright orange beaks wheel above, trilling.
Twenty minutes of paddling leads us into an archipelago of rocky islets, known as skerries. We haul ashore onto one and stretch our legs as Malver examines a chart with his colleague Myles Farnbank, 42, a bearded Englishman and veteran guide.
The two men are a study in contrasts. Whereas Farnbank leads with the authoritarian swagger that bygone Brits employed to keep their colonial subjects in line, Malver exudes the mellow, nonjudgmental ethos of the East Bay. They debate whether to stay within the sheltered archipelago or round the headland to the south. Farnbank leans toward the safer option, while Malver proposes gambling on the headland route. He huddles the group and explains the pros and cons, including the fact that a brisk southwest wind could make the passage rough.
"You have to involve the clients," he says later. "When you come to a place, you spread out the map and tell them what the options are. You don't say, 'We're going here.' "
In the end, Malver's suggestion wins out. We paddle south around the Arisaig peninsula. For 15 minutes we struggle across a choppy strait and are rewarded with a secluded cove, where we pull ashore onto a white, pristine beach. Farnbank heats a kettle for tea while the adventurers sprawl on a nearby sheep-grazed meadow, eating sandwiches and fruit and taking in the distant highlands.
"I was pushing it," Malver admits of the crossing. "Some of them were scared, but see how happy they are now? You push them and at the end of the day they feel they've accomplished something extraordinary."
From classrooms to coves
The extraordinary is a familiar goal for Malver. Born in Sweden to a Norwegian father and a Danish mother, he grew up by the sea, sailing, canoeing and kayaking. In college he worked as a guide in the French and Swiss Alps and later summited peaks in Alaska and the Himalayas.
Malver's professional path, however, led him in a different direction: organic chemistry research. In 1985 he became a professor of chemistry at the University of California at San Francisco. But after a few years he grew tired of "begging for money from the National Science Foundation." He left academia and launched Explorers' Corner in 2000.
Our expedition is tame by wilderness adventure standards; we're bunking each night in cozy accommodations, including country inns and a former hunting lodge. But the group quickly bonds over sore muscles and fatigue. There's Ed Baetzhold and Kelly Keating, a young couple from Detroit, and Barry White, a missile company executive from Texas, who is accompanied by his wife, Mary Hebert, and teenage daughter, Mickey. Bill Johnston, a truck driver from Australia, and his wife, Carolyn, are the only non-Americans on the tour. Evenings find the group assembled in a pub, drinking whiskey by the fire.
That intimate dynamic is an important aspect of Malver's business. Explorers' Corner is small, with revenues of about $1 million and, as he puts it, "five and a half employees." He finds clients by referral, eschewing advertising and marketing. He's wary of growing too quickly.
"I don't want to break that sense of community," he says. "If a client meets someone who's been on a trip before, they immediately feel a bond and you create a lifetime client."
For example, there's Jonathan Calvert, a semiretired, 78-year-old financial services entrepreneur from Dallas who has taken 12 trips with Malver, including journeys to Antarctica, Russia's Kamchatka Peninsula and the Bering Sea. Calvert is not a particularly strong paddler and seems shaky when lugging a kayak over kelp-slick rocks. But his willpower is undeniable. In the course of his globe-trotting adventures - he counts more than 70 over the past 40 years - he has broken his spine in Mongolia, spent two weeks hiking on a fractured ankle in Tibet and was medevaced out of Madagascar after suffering a heart attack.
Says Calvert: "I'm not interested in sitting around on the beach."
Whitecaps in the driving rain
After our second day of paddling, Farnbank calls the British Coast Guard for the next day's forecast. The wind will be strong out of the east, he reports, but we should be well sheltered as we paddle west for 13 miles along the coast.
"What's the precipitation forecast?" I inquire. "I didn't bother to ask," he says, raising an eyebrow as he takes another sip of scotch. "If you planned to stay inside every time it rains, you wouldn't get to do much in Scotland."
As if on cue, the next morning starts with a drizzle. Half the guests go hiking while the rest of us launch our kayaks with a stiff wind at our backs. After a stop for tea on a remote beach, I'm careless climbing into my kayak and tumble into chilly waist-deep water. I press on soaking wet, hoping the paddling will keep me warm. As we round the next bit of coastline, we find ourselves fighting through a narrow channel directly into a driving rain with whitecaps breaking over our bows.
"On the Beaufort Scale this ranks as a breeze," Farnbank points out with unflappable Britishness.
An hour of paddling brings us around the headland and out of the wind. The gale has given way to an eerie calm. Tall pines peek out of the fog as we drift toward a shadow that resolves into the crenellated ruins of Castle Tioran, an ancient fort. It's a haunting image that lingers long after I'm home and ensconced in my New York City routine.
Later, when I call Malver to get his assessment of the outing, he says he's adding it to next year's schedule, albeit with a few changes, like a visit to a whiskey distillery. "It needs to be done early on," he explains, "so people can use their newly acquired whiskey-tasting skills."
We can't talk long; he's preparing to investigate a new hiking trail along the eastern coast of Greenland.
"My role is to be creative, look at the map and find new routes," he says enthusiastically. "I'm searching for the unknown, for what is around the corner that we don't know."

To write a note to the editor about this article,
click here
.