Auto parts makers get $5B bailout
Treasury announces program to guarantee payments owed to suppliers by troubled automakers.
Photos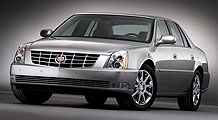 NEW YORK (CNNMoney.com) -- The Treasury Department announced a $5 billion program to help embattled U.S. auto parts makers, the latest attempt to stabilize problems in the nation's troubled auto sector.
The program will ensure that parts suppliers get the money owed to them for their products, no matter what happens to their automaker customers. Concerns about whether General Motors (GM, Fortune 500) or Chrysler LLC could be forced into bankruptcy are making it difficult for the parts makers to get loans they need to operate.
The program also allows the parts makers to sell their receivables, or the money owed to them by the automakers, into the program at a modest discount. This is expected to provide them with desperately needed funding and help unlock credit more broadly in the supplier industry.
The $5 billion is coming from the Troubled Asset Relief Program, the fund set up to bailout banks and financial institutions.
A member of the Obama administration's auto industry task force, who spoke to reporters on the condition that his name not be used, said the decision to help suppliers should not be taken as a sign that the task force has made a decision on further support for GM and Chrysler.
GM and Chrysler have already received $17.4 billion in loans and they are asking for up to $21.6 billion more in loans.
The auto task force has until March 31 to determine if the two companies' turnaround plans will allow them to be viable in the future and whether they should get additional funds. The task force member said some announcement would be made by the group before the March 31 deadline.
But the task force member said it was important to put the program to help suppliers in place first because of the risk that they could run out of cash and have to stop operations before there is a decision on the help for GM and Chrysler.
"Unlike GM and Chrysler, they have yet to receive any help at all from the government, even though they are suffering from some of the same problems," said the task force member. "As we've been doing our work, it became clear to us that addressing this particular problem is of great urgency."
Even some experts who are strong advocates of additional help to the automakers agreed the suppliers needed to be at the front of the line for government help.
"I think the most serious issue for the industry was a bottom-up failure [of a supplier] that could take the entire industry down," said David Cole, chairman of the Center for Automotive Research, a Michigan think tank.
But the latest bailout from the TARP drew criticism of some leading Republican senators.
"While most of us on Capitol Hill are very concerned about the supplier base, this is a violation of trust and another sleight of hand by this administration which will make it very difficult for them to win congressional support at a time when they really need it," said a statement from Sen. Bob Corker of Tennessee, one of the leading Republicans during the debate last December on whether to provide help to the auto industry. "The administration needs to work with Congress instead of running the country by executive fiat without checks and balances on the use of taxpayer money."
He was joined in his criticism by Sen. Judd Gregg, who had agreed to be Obama's secretary of commerce earlier this year before changing his mind and withdrawing his name last month.
"With so many sectors of our economy hurting, I seriously question why auto part suppliers deserve billions of dollars, especially when the auto makers still haven't yet made all of the reforms necessary to be sustainable over the long term," said Gregg in his statement. "TARP money should be used for the purpose of stabilizing the financial system and not for industrial policy."
Only suppliers identified by the major U.S. automakers will be eligible to participate in the program. GM and Chrysler have agreed to participate in order to get help for their suppliers.
Ford Motor (F, Fortune 500), which has yet to receive a bailout from the federal government, will not participate in the program. If it were to do so, it would have to issue the government warrants for stock in the company and agree to some limitations on pay and restructuring plans. Still, the company said in a statement it supported the program.
"These actions support all automakers that are reliant on a healthy U.S. supply chain," Ford said in the statement. "Ford does not need to participate in the program as we remain viable and expect no issues with continued payment to our suppliers."
The auto parts industry is greatly interconnected, meaning that failure by one supplier could shut production not just at troubled automakers like GM and Chrysler but also at Ford and overseas rivals with assembly lines in the United States.
And with the suppliers being so cash-strapped to begin with, the uncertainty at GM and Chrysler had the potential to spread across the industry. GM owed its suppliers worldwide $22 billion at the end of the fourth quarter, according to its latest financial support. Privately held Chrysler does not disclose what it owes.
The task force member admitted this provision gives GM and Chrysler life-and-death power over their key suppliers, but he said they realistically already have that leverage. He added that it would be impossible for the government to sort through which suppliers are critical and which could be allowed to fail.
"There unfortunately will continue to be failures in the supply base," he said. "This program does not solve fundamental revenue or profitability issues."
Suppliers still have financial problems
Suppliers employ more U.S. workers between them - about 500,000 -- than the three major U.S. automakers do directly. And with job losses continuing to batter the overall U.S. economy, Treasury Secretary Tim Geithner said this was a program that needed to be put in place.
"The Supplier Support Program will help stabilize a critical component of the American auto industry during the difficult period of restructuring that lies ahead," he said in a statement.
The Original Equipment Suppliers Association, a trade group, for the industry praised the new program. The group had asked for up to $18.5 billion in federal help, but Ann Wilson, the group's senior vice president for government affairs, said this was an important stopgap.
"This plan comes at a critical time for suppliers," she said.
GM and Chrysler both issued statement praising the supplier program.
"This decision by the U.S. Treasury is viewed as a vote of confidence for the U.S. auto industry and the future of our company," said Chrysler in its statement.
When GM and Chrysler shut down much of their production in January due to excess inventory of cars caused by weak sales, it caused a cash crisis for the parts makers who depended on the flow of payments from the automakers.
Widespread bankruptcies were expected in the sector in the coming weeks without government help. Shares of Visteon (VSTN), the major supplier for Ford, fell to a price of below 10 cents this month on reports it was nearly out of cash.
In addition, auditors for American Axle (AXL) have said there is doubt about its ability to stay in business in the current environment. Shares of American Axle jumped as much as 83% following Thursday's announcement from the Treasury, but then gave up all of those gains to finish flat. Visteon shares soared 81% in over the counter trading. But that jump only lifted shares to 29 cents though.
Other parts maker stocks surged as well. Shares of Lear (LEA, Fortune 500) shot up 85%, while TRW Automotive (TRW, Fortune 500) gained 36%.
Wilson agreed with the auto task force member that the program won't be enough to stop some suppliers from going bankrupt, due to the severe production cutbacks announced by virtually all automakers with U.S. assembly plants.
"This is not going to staunch all the bleeding. There's no doubt about that," she said. "Any plan the government came up with could not address all those concerns."

Features

These Fortune 100 employers have at least 350 openings each. What are they looking for in a new hire? More

It would be the world's second-biggest economy. See how big companies' sales stack up against GDP over the past decade. More