N.Y. lawyer arraigned in alleged $700M fraud
Marc Dreier, charged with bilking various hedge funds, pleads not guilty.
Video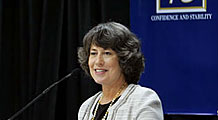 The Fixers
7 people are in charge of rescuing the economy. Here's who they are and how they plan to do it.
NEW YORK (CNN) -- The managing partner of a New York law firm pleaded not guilty Thursday to charges in an alleged $700 million fraud against various hedge funds, the U.S. attorney's office here said.
Marc Dreier, 58, was arraigned Thursday morning.
In a superseding indictment filed Tuesday, prosecutors allege that from 2004 through December 2008, Dreier sold approximately $700 million worth of fictitious promissory notes. The indictment adds that in order to carry out the fraud, Dreier directed victims to wire those funds into a Dreier LLP attorney trust bank account, from which he later disbursed the funds to reap the benefits of the fraud and to continue its operation.
The superseding indictment charges Dreier with one count of conspiracy to commit securities and wire fraud; one count of securities fraud; five counts of wire fraud; and one count of money laundering.
The superseding indictment also seeks forfeiture of the proceeds of the fraud offenses and property derived from it, including real estate, a yacht, and works of art.
The money laundering count carries a maximum sentence of 20 years in prison and a fine of $500,000 or twice the value of the property involved in the money laundering.
Dreier faces a maximum term of 145 years on all eight counts of the indictment.
A trial date has been scheduled for June 15.
Attempts to reach Dreier's attorney Gerald Shargel were unsuccessful.
Dreier is the founder and managing partner of Dreier LLP, a law firm of more than 250 attorneys with its principal office in New York City and additional offices in Los Angeles and elsewhere in the country, federal officials said.
According to the U.S. attorney's office, Dreier told a Connecticut hedge fund in early October 2008 that a New York City real estate development company had a "note program" by which the developer sold promissory notes to investors. Dreier purportedly said some investors who had bought notes wanted to sell them because they needed money due to the current financial crisis. Authorities say Dreier also told the hedge fund that he represented the selling investors and the developer and that the Connecticut hedge fund could buy those notes at a significant discount.
Dreier sent the hedge fund purportedly audited financial statements, authorities say, and the hedge fund wired approximately $13.5 million in late October to an account controlled by Dreier to pay for a note with a face value of $25 million.
Dreier also negotiated in October with a New York-based hedge fund that agreed to buy notes purportedly issued by the developer, the authorities said. That hedge fund ultimately wired about $100 million to the Dreier account, the U.S. attorney's office alleges in a seven-page complaint unsealed in December.
During the course of the negotiations with the New York hedge fund, officials said, Dreier arranged a conference call with hedge fund personnel and an individual he said was the developer's chief executive officer. However, the developer's CEO told authorities he did not issue any of the notes, that his signature on certain of the purported promissory notes was a forgery and that he did not participate in a conference call with the New York hedge fund.
Police in Toronto, Canada, arrested Dreier on December 2 on suspicion that he impersonated a Canadian company employee in connection with the sale of notes with a face value of more than $40 million to a third hedge fund, the U.S. attorney's office said.
By Chris Kokenes

Features

These Fortune 100 employers have at least 350 openings each. What are they looking for in a new hire? More

It would be the world's second-biggest economy. See how big companies' sales stack up against GDP over the past decade. More