AIG dominates Obama's 9th week
The president continues to promote long-term economic agenda, but fallout from AIG bonus debacle overshadows attempts to rescue the economy.
100-day scorecard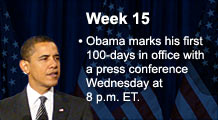 301 Moved Permanently
---
nginx
NEW YORK (CNNMoney.com) -- Outrage over bonuses AIG paid to top executives after having received more than $170 billion in taxpayer-funded assistance eclipsed President Obama's ninth week in office.
"I understand how mad everybody is about this AIG bonus business," Obama said Thursday at a town hall meeting in Los Angeles. "And even though I didn't draw up these AIG contracts ... it's my responsibility to fix the system."
The flareup fueled the anger many Americans already feel over the government's handling of the financial crisis. But the president maintained that aggressive action is key to the nation's economic recovery.
"We can be as mad as we want, but the fact of the matter is, we've got to work through this huge mess that was made in the financial system," he said.
Looking to the week ahead, Obama will address the nation on Tuesday in a prime-time news conference.
Also on Tuesday, Obama's Treasury secretary, Tim Geithner, will testify before the House Financial Services Committee about AIG. He'll be joined by Federal Reserve Chairman Ben Bernanke.
CNNMoney.com will continue to track Obama's first 100 days in office and keep score of the government's unprecedented efforts to fix the ailing economy. (Last week's article is available here.)
First 100 days: Week 9
Bonus backlash: Obama bluntly criticized AIG on Monday, calling the bonuses an "outrage," and directed Geithner to explore ways to block them.
"This is a corporation that finds itself in financial distress due to recklessness and greed," Obama said before unveiling a plan to help boost lending to small businesses. "It's hard to understand how derivative traders at AIG warranted any bonuses."
But the controversy came to a head Wednesday when Edward Liddy, AIG's chief executive, testified before Congress that paying the bonuses was "distasteful" but necessary because the company was contractually obligated to do so.
Liddy said he had asked some employees to give part of the money back, and that some had already complied. But lawmakers said they remained concerned about how AIG is being managed.
House lawmakers went one step further Thursday passing legislation aimed at recouping the bonuses by taxing individuals at companies that have received taxpayer-funded assistance.
Meanwhile, differing accounts of when officials learned of the bonuses resulted in a bout of finger pointing between Liddy and Geithner.
The Treasury secretary was also scrutinized for a provision in the recently passed economic stimulus bill, included at his department's behest, that allowed AIG to pay out the bonuses.
AIG's woes stem from losses on insurance contracts it sold to holders of complex derivatives that have plummeted in value. The company also took massive writedowns on bad bets tied to the mortgage market made predominately by its financial products unit.
Budget: Obama continued to push his long-term economic goals, saying that postponing investments in health care, renewable energy and education would be irresponsible.
"To kick these problems down the road for another four years or eight years would be to continue the same irresponsibility that led us to this point," he said.
Last month, the president unveiled a 10-year outline for the federal budget that calls for large investments in social services and would allow certain tax breaks for higher earning households to expire.
The plan, which projects a budget deficit of $1.75 trillion this year, has come under criticism for being overly ambitious and too expensive given the challenges already facing the nation's economy.
"There are those who say these plans are too ambitious," Obama said in Los Angeles. "Well, I say our challenges are too large to ignore."

Features

These Fortune 100 employers have at least 350 openings each. What are they looking for in a new hire? More

It would be the world's second-biggest economy. See how big companies' sales stack up against GDP over the past decade. More