For infomercials, downturn is prime time
Air time is cheap, and so are the products. That means booming sales for Snuggies and Mighty Putty.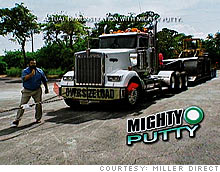 (Fortune Small Business) -- Admit it: Thanks to some late-night pitchman, you either own a Popeil Pocket Fisherman, a Snuggie blanket or a Thigh-Master, or have been tempted to buy one.
As-seen-on-TV products make popular targets for comedians - remember Garth's hair-raising Flowbee encounter in Wayne's World or the Saturday Night Live commercial for Nelson's Baby Toupees? But they also have serious consumer appeal, generating millions of dollars in revenue for entrepreneurs each year. And thanks to the weak economy, you can expect to see a lot more of them.
Just ask Bill McAlister, 50, who co-owns Media Enterprises, a six-person sales and marketing firm that specializes in as-seen-on-TV products - including the Smart Mop ("the mop with a twist"), Urine Gone ("Love your pet, hate the smell") and his current hit, Mighty Putty.
On the strength of such products, McAlister says, his firm cleared $50 million in revenue last year. He expects sales to grow by 15% to 20% in 2009. Numbers like these thrust the company into the big leagues; Media Enterprises holds its own against larger firms with deeper pockets, such as Guthy-Renker, Telebrands and even Ronco, the business owned by iconic pitchman Ron Popeil.
McAlister and other direct marketers hope to prosper through the downturn. With top-tier marketing firms slashing their ad budgets, competition for airtime has steadily declined, making room for a new class of advertisers. Infomercials were once relegated to the wee hours of the morning, when slots come cheap. Now they're turning up in prime time, even squeaking onto the Super Bowl telecast: Cash4Gold, a direct advertiser that melts down jewelry, made headlines in January by snapping up an unsold 30-second slot.
"It's the perfect storm for direct response," McAlister says of the downturn. "In more than 20 years in business we had never bought prime time. Literally never. In the past three months, I have been buying it every single day. Big companies will not pay $4,000 for a spot. So that rate has come down to $2,000. And we can afford that."
Even before the recession hit, infomercials offered a unique opportunity for entrepreneurs.
"Direct response opens the door to people like Bill," says Larry Nussbaum, chairman of Ronco. "You can get a brand from idea to shelf. Procter & Gamble spends a fortune to do the same thing, but you don't need to be a P&G. Direct response is really a form of guerrilla marketing that any small business can use."
The "wow" factor
McAlister's first lesson for small retailers is simple: You need the right product.
"He acquires only unique, exciting goods that solve problems and have mass appeal," says Joan Pelligrino, a former vice president at the Home Shopping Network, where McAlister worked as an importer and a live presenter in the 1980s. "He was one of my best vendors."
The item can't be too expensive. Most shoppers will spend no more than $20 on something they see in a one- or two-minute commercial, McAlister says.
More than anything else, McAlister looks for a "wow" factor that sends a powerful - often visual - message. To market Mighty Putty, he hired a consultant to calculate the weight capacity of a hitch used for towing tractor-trailers. Then he created a special chain - one that depended on a link held together with Mighty Putty. He used the chain to connect a commercial tow truck to an 80,000-pound 18-wheeler. Lo and behold, the tow truck pulled the tractor-trailer, and the Mighty Putty held fast. Voil: instant TV commercial!
But what happens if the economy keeps sinking and even razzle-dazzle won't sell products?
"Hopefully we never hit that floor where people don't have $20 for Mighty Putty," McAlister reflects. "We like to think that is some time off."

To write a note to the editor about this article,
click here
.