Wall Street: Retreat after rally
Stocks slump, led by tech and banking shares, one day after a big advance.
Tracking the bailout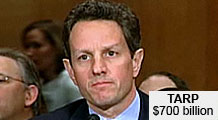 Video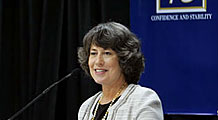 The Fixers
7 people are in charge of rescuing the economy. Here's who they are and how they plan to do it.
NEW YORK (CNNMoney.com) -- Technology and bank shares led a selloff Tuesday, as investors stepped back after the previous session's big rally, Wall Street's best in four months.
The Dow Jones industrial average (INDU) lost 115 points, or 1.5%. The S&P 500 (SPX) index lost 17 points, or 2%. The Nasdaq composite (COMP) lost 40 points, or 2.5%.
Stocks slumped in the morning as investors eyed the AIG hearing in Washington, cut losses in the afternoon and then slipped again near the close.
On Monday, the Dow and Nasdaq each gained 6.8% and the S&P 500 rose 7.1% on Treasury's plan to buy billions in bad bank assets and a surprise rise in existing home sales.
"Yesterday was euphoria and today people are getting more rational and looking behind and beyond the bank plan," said Kevin D. Mahn, managing director at Hennion & Walsh.
He said that, in the long term, the prospects for a stock market recovery are good. But, in the shorter term, the volatility is not going to go away.
However, considering the span of Monday's rally, it was "pretty encouraging" that Wall Street wasn't seeing steeper losses Tuesday, said Ron Kiddoo, chief investment officer at Cozad Asset Management.
Since tumbling to 12-year lows two weeks ago, stocks - as represented by the broad S&P 500 - rallied 18% through Monday's close. The index also surpassed 800, a key resistance level that traders have been watching.
Kiddoo said the lows from two weeks ago were probably a bear market bottom, but market pros are going to remain skeptical after previous "bottoms" proved to be just ledges along the side of the cliff.
"Longer term, I think the lows are in, but we could still retest them," he said. "The market is poised to move higher, but it's going to need another significant catalyst. Otherwise, we'll just drift lower."
Wednesday focus: Investors will be digesting President Obama's televised address from Tuesday night, the second of his presidency.
Additionally, a number of economic reports are due in the morning.
February new home sales are expected to have fallen to a seasonally-adjusted 300,000 unit rate from a 309,000 unit rate in January. Investors will be looking to see if the report mirrors the trend of the existing home sales report from Monday, which showed a surprise rise.
February durable goods orders are expected to have fallen 2.5% after falling 5.2% in the prior month. Durable goods orders excluding transportation are expected to have fallen 2% after falling 2.5% in January.
The government's weekly crude oil inventories report is also due in the morning.
Last week, the Federal Reserve announced it was pumping another trillion into the economy to try to get credit flowing, including $300 billion to buy long-term Treasurys. The N.Y. Fed Bank will begin buying the securities Wednesday.
AIG: Federal Reserve Chairman Ben Bernanke and Treasury Secretary Tim Geithner testified Tuesday about the government's bailout of American International Group.
The government has put more than $180 billion into AIG in an attempt to keep it afloat after it was deemed "too big to fail," due to the breadth of its businesses.
Both Geithner and Bernanke told the House Financial Services Committee that AIG is evidence that the U.S. government needs to have broader power over non-bank financial institutions.
Bernanke essentially said that AIG would have had a less difficult six months if the government had been allowed to regulate or takeover the insurer in September, when the extent of its problems became clear. (Full story)
AIG has been criticized recently for giving out millions in bonuses even as it was taking bailout money. On Tuesday, Bernanke said the Fed wanted to sue over the bonuses, but was discouraged from doing so. Last week, the House rushed through legislation that would have taxed the bonuses. But interest in the bill has cooled, as many employees have returned the bonuses. (Full story)
AIG (AIG, Fortune 500) shares fell 6%.
Financial sector: On Monday, Treasury rolled out its much-anticipated plan to purge bank balance sheets of as much as $1 trillion in sour assets that are limiting lending and prolonging the recession.
The news helped spark a massive rally in bank shares and, in turn, the broader market, as investors hoped that the plan would help stabilizing the financial sector. Economists say stabilizing the banking system is critical to stabilizing the economy.
However, critics say the plan still doesn't resolve the issue of how to value the bad assets so as to establish a price that is palatable to both the sellers and potential buyers.
Financial shares slipped Tuesday afternoon, with Bank of America (BAC, Fortune 500), Citigroup (C, Fortune 500), JPMorgan Chase (JPM, Fortune 500) and Wells Fargo (WFC, Fortune 500) all declining. The KBW Bank (BKX) index fell 7.3%.
Among other stock movers, a variety of tech shares slipped, including Intel (INTC, Fortune 500), Broadcom (BRCM), Yahoo (YHOO, Fortune 500) and Applied Materials (AMAT, Fortune 500).
Market breadth was negative. On the New York Stock Exchange, losers topped winners two to one on volume of 1.65 billion shares. On the Nasdaq, decliners topped advancers two to one on volume of 2.03 billion shares.
Bonds: Treasury prices dipped, raising the yield on the benchmark 10-year note to 2.70%, up from 2.66% late Monday. Treasury prices and yields move in opposite directions.
Lending rates were little changed. The 3-month Libor rate ticked up slightly to 1.23% from 1.22% on Monday, while the overnight Libor rate held steady at 0.29%, according to Bloomberg.com. Libor is a bank-to-bank lending rate.
Other markets: In global trading, Asian markets rallied and European markets were mixed.
In currency trading, the dollar gained against the euro and fell against the yen.
U.S. light crude oil for May delivery rose 18 cents to settle at $53.98 a barrel.
COMEX gold for May delivery fell $29.10 to settle at $924.70 an ounce.

Features

These Fortune 100 employers have at least 350 openings each. What are they looking for in a new hire? More

It would be the world's second-biggest economy. See how big companies' sales stack up against GDP over the past decade. More