Treasury set to reveal top reforms
Geithner, set to testify Thursday on Capitol Hill, will explain administration's plans to prevent future financial collapses. Super-regulator, better oversight key.
100-day scorecard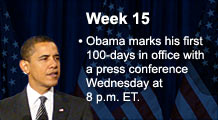 WASHINGTON (CNNMoney.com) -- Treasury Secretary Tim Geithner returns to Capitol Hill on Thursday and is expected to reveal a much anticipated list of Obama administration priorities for preventing future financial collapses.
Among the likely proposals: establishment of a regulator to monitor system-wide financial risk and stricter rules on so-called credit default swaps and other financial instruments that helped throw the markets in turmoil, financial experts say.
Geithner has so far kept mum about what he plans to detail. But he and Federal Reserve Chairman Ben Bernanke have recently dropped some big hints. In fact, every day this week Geithner has spoken publicly about the need for increased financial sector regulation.
Many experts believe the administration wants to announce a new regulatory framework before President Obama travels to London next week for a meeting of G-20 leaders. Many of those leaders have indicated they want to see the United States strengthen its regulatory system.
On Wednesday, the administration said it plans to ask Congress to give the Treasury and the Federal Deposit Insurance Corp. broader power to deal with companies deemed too big to fail, either by propping them up or winding them down.
Treasury officials declined to confirm what Geithner would talk about at Thursday's hearing before the House Financial Services Committee.
Consolidated regulator
Another key part of the Treasury plan will be the establishment of a "consolidated regulator," Geithner and Federal Reserve Chairman Ben Bernanke said during a House hearing on Tuesday.
This person or agency would be charged with detecting risk throughout the financial system as opposed to looking at each individual company, Bernanke said.
Bernanke suggested the regulator would "look for weaknesses in regulation" and "try to provide an overview of problems in the financial system as a whole."
Brookings Institution economist Douglas Elliott said the job of systemic regulator could be another duty for the Federal Reserve, or it could be split among a combination of top financial regulators. Either way, Elliott called it key to preventing the kinds of things that got the U.S. financial system in trouble.
"I do think it's important, and there's consensus, a lot of people who follow this are supportive of having a regulator role," Elliott said.
The idea already has supporters in Congress. Among them is House Financial Services Chairman Barney Frank, D-Mass. Senate Banking chief Chris Dodd, D-Conn., has been more circumspect about the idea. But Dodd showed some support on Tuesday when he mentioned the need to "consider creating a single coordinated prudential regulator."
Credit default swaps
Another piece of the regulatory reform Geithner is expected to detail involves credit default swaps.
Swaps work like insurance policies. Banks and investment firms buy them from companies, like American International Group, to back up the risk that a company might default on bonds or securities.
In the case of bailed-out insurer AIG, when the value of mortgage-backed securities fell, companies that had bought swaps demanded that AIG make good on contracts that required the insurer to cough up billions of dollars when the securities' value dropped.
That's one reason why credit default swaps are accused of playing a central role in the financial market collapse.
Bernanke and Geithner both made clear they believe stronger rules are needed to govern credit default swaps. They said credit default swaps need to be more transparent and better capitalized.
One solution: make sure they're sold via central clearinghouses or exchanges.
Right now firms that sell credit default swaps do so without anyone looking over their shoulder. They're just contracts between whoever is selling it and whoever is buying. With a clearinghouse, firms looking for backup insurance would buy a credit default swap from a regulated pool.
"I think comprehensive reform, bringing these [credit default swaps] under oversight, should be a critical part of the reform agenda we hope to work with the Congress on," Geithner said on Tuesday.

Features

These Fortune 100 employers have at least 350 openings each. What are they looking for in a new hire? More

It would be the world's second-biggest economy. See how big companies' sales stack up against GDP over the past decade. More