Hired! With help from your friends
The job market has been tough on Juan Velasquez, but he was able to to rebound and find employment after reaching out to his buddies.
Photos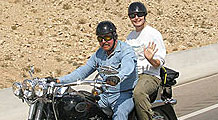 NEW YORK (CNNMoney.com) -- Finding a job in this economy is tough, finding two jobs is nearly impossible, unless you know someone who knows someone who can help.
Juan Velasquez, 31, worked at Enterprise Rent a Car since graduating from James Madison University. He had worked his way up from management trainee to branch manager and was then promoted to area sales manager making close to $90,000 a year. But by the spring of 2007, things "got bad in a hurry," he said.
"Gas prices went up and inventories swelled," Velasquez said. And because his income was largely commission based, his take home fell to about $65,000, he said.
As the sole provider for his family, Velasquez says he was in no position to ride out the downturn in the rental car market and had to start looking for another job. He posted his resume online, built a LinkedIn profile, signed up for Facebook, set up a twitter account and reached out to friends and family.
One college buddy recommended that he apply for a job as a business development manager at recruiting firm Beeline. His background in sales gave him an edge, Velasquez said. He started working last August as a project-based recruiter, helping companies find workers for temporary projects. He made $80,000. But soon that industry slowed too, and just a few months later Velasquez was looking for work, again.
Velasquez updated his Facebook status to "looking for a new opportunity, professional sales person or recruiter at your service," hoping to spread the word once more. And his friends and family responded with more leads, including one from the owner of the daycare that his daughter, Ellie, attended.
That's how he heard about a position at Cintas, selling supplies such as uniforms, soap dispensers and floor mats to other businesses. He was hired last week and he starts immediately.
The job pays $45,000 but there is the potential to another $40,000 with commissions and best of all, he says, it's in an industry that's growing rather than contracting.
"It's not glamorous but neither is selling cars," he said.
Relying on those around you
Our career experts say that friends and family are often key when it comes to finding a job.
Many job seekers are often reluctant to lean on their friends and family for help, for fear of coming off badly, said Kathy Robinson, the founder of TurningPoint, a career consulting firm in greater Boston. But, they're often the ones that will eagerly pass along leads and be the most willing to help.
"These are the people that are going to be the most motivated to help you," said Cheryl Palmer, an executive career coach at Call To Career in Silver Spring, Md. Palmer suggests always starting a search with friends and branching out from there.
"The best networking is a second degree connection, which is a friend of a friend," Robinson said. Many openings are filled before the job is even listed online, Robinson explained, and that's where having a referral or knowing someone in the company becomes essential.
Don't overlook the people right around you, Palmer warns. Velasquez made a connection through someone at his daughter's daycare, which goes to show that "you never know who may be in a position to help you."
Very often job seekers "overlook people who can help them thinking this person isn't necessarily in my field or level," she said, and that's a mistake.
"Be willing to talk about your job search and be clear about what you're looking for," Robinson said. "Don't be embarrassed about talking about it because there are a lot of people on the same boat."
Have you found a job recently? We want to hear from you. Send us an email and attach a photo. Tell us where you got hired and how you landed the job and you could be profiled in an upcoming story on CNNMoney.com.

Features

These Fortune 100 employers have at least 350 openings each. What are they looking for in a new hire? More

It would be the world's second-biggest economy. See how big companies' sales stack up against GDP over the past decade. More