Oil falls below $49 on auto struggles
Crude prices fall after Obama administration rejects U.S. automakers' plans to restructure.
Photos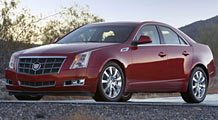 NEW YORK (CNNMoney.com) -- Oil fell below $49 a barrel on Monday after the U.S. government rejected restructuring plans from embattled automakers GM and Chrysler.
The moves - including forcing GM CEO Rick Wagoner out - renewed fears of potential bankruptcies at the companies and prompted a stock selloff.
Crude prices fell $3.97, or almost 7.6%, to settle at $48.41 a barrel.
"There was an idea about bright spots ahead, but this weekend's events with the automakers extended the bleak look for the economy," said James Cordier, president at Liberty Trading Group.
Late last week, oil got ahead of itself, pushed higher by the stock market rally, he noted.
With supply at a 16-year high and demand continuing to shrink amid rising unemployment, there was no fundamental reason for prices to go from $35 in February to above $54 last Thursday, according to Cordier.
Their retreat signals a return to fair value, which he pegged at $45 a barrel. Barring another stock market rally, Cordier expects prices to hit that mark this week and continue to sink in coming weeks to the low $40s, though they won't revisit the market bottom at $32.
In other market news, the greenback rose against the euro and the pound, which put severe pressure on oil prices, Cordier said. Crude is sold in dollars across the world.
Gasoline: The national average price for a gallon of regular unleaded gasoline increased to $2.048, up 3 tenths of a cent from the previous day, according to motorist group AAA. That's the thirteenth consecutive increase.
Obama automaker speech: At 11 a.m. ET, Obama gave a televised speech about the struggling GM (GM, Fortune 500) and Chrysler, which have already been given $17.4 billion in government aid. Their potential bankruptcies renewed concerns about the U.S. economy.
The White House warned that if the companies do not fix their restructuring plans they could be forced into a "structured bankruptcy." That outcome would put stress on the U.S. financial system.
In the speech, Obama said he was "confident that GM can rise again" but "the situation at Chrysler is more challenging."
About an hour after Obama completed his speech, Chrysler announced it reached a "framework of a global alliance" with Italian car company Fiat.
GM will get 60 days and Chrysler 30 days to prove they can be viable, Obama said, adding that "our auto industry is not moving in the right direction fast enough to succeed."
Talkback: Do you have health insurance? Are you satisfied with your coverage? If you do not have health insurance, how do you pay for health care? E-mail your story to realstories@cnnmoney.com and you could be part of an upcoming article. For the CNNMoney.com Comment Policy, click here.

Features

These Fortune 100 employers have at least 350 openings each. What are they looking for in a new hire? More

It would be the world's second-biggest economy. See how big companies' sales stack up against GDP over the past decade. More