Free advice: Priceless
How an advisory board can give your firm a leg up.
Photos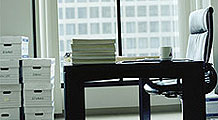 (Fortune Small Business) -- Karen Usher has a secret weapon. She's the founder of TPO, a human resources outsourcing company in Falls Church, Va. Every year for more than a decade, TPO has averaged 30% sales growth. The firm had about $5 million in 2008 revenues and is "ultraprofitable," Usher says.
Usher, 51, credits her board of advisers - three veteran executives who guide her on issues such as what portion of profits to reinvest in TPO and which software is best - for these stellar results. She built her team by approaching her professional contacts.
"I view my board members as benevolent critics," says Usher.
Create a board and you'll likely enjoy an advantage. Advisory boards can offer benefits such as guidance on day-to-day issues and introductions to potential clients or investors. Yet only about 20% of small firms form advisory boards, says Paul Willax, who co-founded the Center for Entrepreneurial Leadership at SUNY Buffalo.
Darryl Daniels, managing partner of Jacobsen/Daniels Associates, an airport-planning consultancy in Ypsilanti, Mich., turned to his board to fill gaps within his firm, which scopes out projects such as terminal overhauls.
"I'm an architect, and my partner is a civil engineer," says Daniels, 46. "We had never managed a business."
Soon after founding the firm in 2001, the partners wrote to prospective advisers and enlisted the first five candidates they contacted, including a retired airport executive.
By 2004, planning jobs were pouring in and sales promised to double. Time to hire, thought Daniels. Not so fast, said his advisers, who suggested the firm use existing staff more efficiently and hire the rest through contractors. This plan spared Daniels the overhead costs for full-time hires; it also ensured that a future downturn wouldn't require layoffs.
Daniels believes this grow-fast, hire-slow tactic has been vital to his company's success. Jacobsen/Daniels turned a healthy profit on $2.8 million in 2008 sales, which were up 20% from 2006. The firm is currently working with Chicago's O'Hare airport on a $6 billion modernization project.
The right advisers can play key roles at each stage of a firm's growth. Serial entrepreneur Eric Hartz runs RentBureau, an Atlanta database service that tracks apartment dwellers' rent histories. Hartz, 44, anticipated trouble convincing landlords - some of them large corporations managing thousands of units - that his database had more value than a credit check, the industry standard for vetting tenants.
That's where his 15-member advisory board, which includes the retired president of the National Multi Housing Council, helped. Hartz's advisers - connections from prior ventures - gave him their best contacts at large residential property firms, often easing the way with phone calls or letters on his behalf. Several advisers joined Hartz for meetings with client prospects. RentBureau had 2008 sales of $1 million, and Hartz says his advisers have helped him win about half of his corporate clients.
"The board extended our reach way beyond that of the usual startup," he says.
Here's the best part: You're likely to pay nothing - or close to it - for the wisdom of an advisory board. Only about 20% of firms with less than $50 million in annual sales pay their advisers, according to Compensation Resources, a consultancy in Upper Saddle River, N.J.
Still, it's wise to offer at least token compensation. Entrepreneur David Hersh plans to award his advisers small stock option grants, possibly worth a few thousand dollars if his firm, Jive Software in Portland, Ore., is bought or goes public. But he doubts that the options are a big draw.
"It's human nature to give advice," he says. "I pay these guys more in ego gratification."

To write a note to the editor about this article,
click here
.