Comparing car buyer protection plans
Hyundai, Ford and GM offers look similar, but there are some important differences that car buyers need to be aware of.
Photos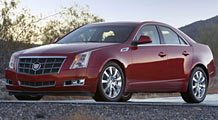 Find your next Car

NEW YORK (CNNMoney.com) -- Hoping to turn around plummeting sales in a faltering economy, Ford and General Motors announced new incentives Tuesday similar to a program introduced by Hyundai early in 2009.
Hyundai's program, which covers payments for buyers who lose their jobs after buying a car, has helped the South Korean carmaker return sales results so far this year that are far better than the domestic brands'.
While Ford and GM's sales were down about 50% last month compared to last year, Hyundai's were down just 1.5%.
"I think it's flattering that they're copying our strategy," Hyundai spokesman Miles Johnson said.
There are some key differences among the plans though. In some cases they offer more than Hyundai's.
What's covered and how
All three automakers will cover payments for new car buyers who lose their jobs. Hyundai's and GM's also cover "negative equity:" When a buyer owes more money than what the car is actually worth.
The programs vary in the amounts they'll cover, when they'll start and how long they'll cover you.
Ford: Under its "Ford Advantage" plan, Ford (F, Fortune 500) will cover payments of as much as $700 for up to a 12 months on any new Ford, Lincoln or Mercury if buyers lose their income. (Ford's offer does not apply to its Swedish subsidiary, Volvo.) Like Hyundai's plan, the Ford's payment protection plan can be used up to a year after purchasing the vehicle.
Ford's program runs through the end of June, 2009. Buyers of new Ford, Lincoln and Mercury cars in that timeframe can file a claim to have their payments covered up until the end of December, 2009. They must make at least one car payment on their own first, though.
General Motors: The "GM Total Confidence" incentive program offers nine months of payments of up to $500. Buyers can use the program for up to two years after purchasing the vehicle. GM's payment coverage begins three months after purchase of a new GM vehicle. As with Ford, GM's Swedish subsidiary - Saab, in this case - is excluded from this incentive.
In addition, GM (GM, Fortune 500) is also offering to cover the loss in a vehicle's value if, when you later trade it in for a new GM vehicle, it's worth less than the total amount you still owe on it. Under this program, GM will cover up to $5,000 if you trade the vehicle in or $2,500 if you sell the vehicle privately then buy a new GM car within a week.
A GM buyer can only get that offer after owning the vehicle for at least three years, though. It's unlikely that a car owner would be "upside-down," an industry term for owing more than the car is worth, after making payments for three years, said Eckard.
"They picked a period in time which was pretty safe," she said.
To be covered under this plan, the GM owner must be at least half-way through the loan period before trading in or selling the vehicle. Loan contracts for up to six years are covered.
GM's program is available through the end of April.
Hyundai: Hyundai's plan will cover up to three months of payments if the buyer loses his income within the first year after buying the car. ("Loss of income" can mean job loss, disability, the loss of ability to drive and a number of other things.)
After that, Hyundai will take the car back and will cover any loss in the car's value up to $7,500, minus any amount already spent in covered payments.
To qualify for Hyundai's program, buyers have to make at least the first two payments on the car themselves.
Hyundai has not announced any specific end date for its offer.
A win-win situation
In all of these cases, consumers aren't asked to pay a separate fee for this additional protection and manufacturers haven't raised sticker prices to compensate for their costs.
Offers like these can offer real value to both consumers and carmakers, industry experts say.
Payment protection are superior to simple cash rebates in two ways, said Robyn Eckard, a spokeswoman for Kelley Blue Book, which tracks new and used car costs.
"The value is, first, trying to allay fears," she said.
The car price isn't what's keeping most car shoppers away, she said. It's the fear of taking on car payments. Second, these incentives are much cheaper for cash-strapped automakers to pay for than thousands of dollars in cash rebates.
Another advantage for consumers is that, unlike rebates, these sorts of payment protection programs probably won't drive down the ultimate resale value of the car. That's one way in which rebates don't end up being worth as much as they might seem.

Features

These Fortune 100 employers have at least 350 openings each. What are they looking for in a new hire? More

It would be the world's second-biggest economy. See how big companies' sales stack up against GDP over the past decade. More