House tries to limit executive pay
Bill would limit companies receiving government assistance to reasonable pay and block bonuses not tied to performance.
Tracking the bailout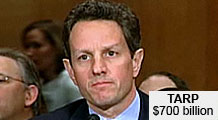 WASHINGTON (CNN) -- The House of Representatives voted Wednesday to give the Treasury Department the power to ban future "unreasonable and excessive" compensation at companies receiving federal bailout money.
The Pay for Performance Act of 2009, which passed by a vote of 247-171, would empower Treasury Secretary Timothy Geithner to define what constitutes reasonable compensation, as well as to ban bonuses not based on performance standards. Geithner's guidelines would apply to companies receiving assistance from the government's Troubled Asset Relief Program, or TARP.
Democrats provided virtually unanimous support for the bill, with only eight members of the majority voting against the measure. Republicans were almost unanimously opposed, with only 10 crossing party lines to support it.
Two weeks ago, the House passed legislation taxing individuals on any bonuses received in 2009 from companies getting $5 billion or more in money from the TARP. Bonuses for people with incomes over $250,000 would be taxed at a 90 percent rate, but the measure has failed to clear the Senate.
Public outrage followed the recent revelation that insurer AIG paid $165 million in bonuses even as it received at least $170 billion of taxpayer money in federal bailouts, plus an $85 billion loan from the Federal Reserve.

Features

These Fortune 100 employers have at least 350 openings each. What are they looking for in a new hire? More

It would be the world's second-biggest economy. See how big companies' sales stack up against GDP over the past decade. More