Week 11: Obama on the road
The president ousts GM's chief, tells two automakers to come up with a better plan for survival, and makes a splash at a summit of the world's economic leaders.
100-day scorecard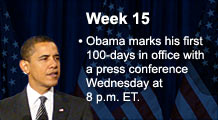 Video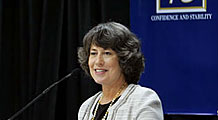 The Fixers
7 people are in charge of rescuing the economy. Here's who they are and how they plan to do it.
NEW YORK (CNNMoney.com) -- President Obama fired a CEO, threatened to let two automakers file for bankruptcy, made his first appearance at a summit of world leaders, and saw the blueprint for his budget pass some congressional hurdles.
It was all in the president's 11th week in office.
The week ended with another grim reminder of the nation's economic troubles: The government said Friday that the unemployment rate rose to 25-year high.
On Monday, General Motors CEO Rick Wagoner was forced to resign after the administration said GM and Chrysler LLC., which are being kept afloat with government loans, failed to make sufficient progress toward economic viability. That means a "structured bankruptcy" could be in the cards for one or both automakers.
Later in the week, Obama sounded confident after meeting with the Group of 20 leaders of the world's biggest economic powers in London. The G-20 agreed to better police global financial markets and pledged more than $1 trillion to help struggling economies around the world.
"It will take time," Obama said. "But we can rebuild our global prosperity if we act with the sense of common purpose, persistence, and optimism that our moment demands."
Meanwhile, lawmakers passed scaled down versions of Obama's budget proposal, though a final version will not be voted on for several more weeks.
Obama will remain abroad at the beginning of the coming week, with stops in Czechoslovakia and Turkey. He'll be back in Washington Tuesday.
100-day scorecard: Week 11. CNNMoney.com will continue to track Obama's first 100 days in office and keep score of the government's unprecedented efforts to fix the ailing economy. (Last week's article is available here.)
Automakers: The administration gave General Motors and Chrysler LLC failing grades Monday for their turnaround efforts and promised a sweeping overhaul of the troubled companies.
The government will provide operating funds for both automakers for several weeks, during which time the companies will have to undergo significant restructuring. GM (GM, Fortune 500) and Chrysler have already received a combined $17.4 billion in federal loans.
But officials said they could undergo a "structured bankruptcy" if management cannot extract greater concessions from labor unions and bondholders.
Restructuring at GM got underway Monday when CEO Rick Wagoner announced his resignation, which he said came at the request of the Obama administration.
Still, Obama stressed the importance of reforming and strengthening the nation's auto industry.
"This industry is, like no other, an emblem of the American spirit; a once and future symbol of America's success," he said.
G-20: The president took to the world stage for the first time this week at the Group of 20 summit of major economies in London. The G-20 agreed to stronger oversight of global financial markets and announced plans to pump $1 trillion into the world economy.
Obama called Thursday's meeting "historic" and said it marked a "turning point" in the pursuit of a global economic recovery.
The group pledged $1 trillion to the International Monetary Fund, tripling its resources, to bolster the global body's ability to assist nations in need.
Among other things, the G-20 nations said they would regulate hedge funds for the first time and supervise credit rating agencies. It also pledged to implement new standards on executive pay and vowed to crack down on tax havens.
The president had called for G-20 nations to boost stimulus spending. But France and Germany, two of Europe's biggest economies, had argued for stricter financial regulation.
Budget: The Senate passed a $3.53 trillion outline for the federal budget for fiscal 2010 late Thursday night in a party-line vote, ending several weeks of acrimonious partisan debate.
The package, which was approved on a 55-to-43 vote, is essentially the blueprint of Obama's economic policies going forward, scaled back a bit from the administration's $3.6 trillion proposal. Among the key initiatives: reforming the healthcare system, investing in education and expanding alternative energy use.
Earlier in the day, the House of Representatives passed its own version of the $3.55 trillion budget, capping off a long day of debate and voting marked by the defeat of several alternative spending plans.
The House version, which passed by a margin of 233-196, passed in a virtual party-line vote. All but 20 House Democrats supported it; no House Republican voted in favor.
The votes took place ahead of a scheduled two-week congressional recess.
Republican lawmakers say the president's proposal is too expensive given the challenges facing the economy and would lead to massive budget deficits.
Obama argues that the current fiscal situation is untenable, and investments in healthcare, education and energy will lay a foundation for future prosperity.

Features

These Fortune 100 employers have at least 350 openings each. What are they looking for in a new hire? More

It would be the world's second-biggest economy. See how big companies' sales stack up against GDP over the past decade. More