Get tough on banks, watchdog tells U.S.
Split TARP oversight panel releases report saying Treasury risks prolonging financial system woes if it ignores liquidation and restructuring of banks.
Bailout tracker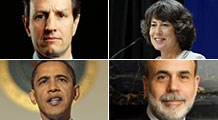 The government is engaged in a far-reaching - and expensive - effort to rescue the economy. Here's how you can keep tabs on the bailouts.
More
NEW YORK (CNNMoney.com) -- A divided federal oversight panel on Tuesday gave the government a less-than-glowing report card for its handling of the $700 billion bank bailout.
The Congressional Oversight Panel said the Obama administration needs to consider alternatives to subsidizing banks including shutting some down and reorganizing others.
The panel warns that the Treasury Department's approach to the financial crisis - investing billions to prop up banks - could fall short.
"If the economic crisis is deeper than anticipated, it is possible that Treasury will need to take very different actions in order to restore financial stability," the report stated.
The five-member panel was not unanimous in its findings, with one saying the committee had strayed far from its mission.
Panel chairwoman Elizabeth Warren told CNNMoney.com that "it may be time" for Treasury to broaden its approach to struggling banks.
It may be time to focus more sharply on accountability, and that could include shaking up management of banks receiving funds from the Troubled Asset Relief Program, she said.
"It cannot be perceived that someone who caused the problem is just continuing to take money and not reorganize and bring it out to the other side," Warren said.
The Obama administration has been criticized by some for forcing the ouster of General Motors CEO Rick Waggoner, while sparing the chiefs of some of the nation's largest banks.
Treasury has so far invested nearly $200 billion in about 500 banks.
"How long you keep pouring money in, that can be a real hindrance to getting the market back on its feet," Warren said.
Warren was joined by Richard Neiman, New York state's banking superintendent, and Damon Silvers, associate counsel of the AFL-CIO. Voting against its findings were Rep. John Hensarling, R-Texas, and John Sununu, a former Republican senator from New Hampshire.
"The report engages in a premature discussion of dramatic changes in Treasury's chosen approach to supporting stabilization in the U.S. financial markets," Sununu wrote in a separate statement included with the panel's report.
One bank industry analyst said he disagrees with the panel's conclusion that Treasury needs a new approach to TARP.
"There are no easy solutions," said Dan Clifton, who runs policy research for Strategas Research Partners. "I don't think it's the stated of policy of the U.S. government to keep bad banks propped up just to keep them propped up."

Features

These Fortune 100 employers have at least 350 openings each. What are they looking for in a new hire? More

It would be the world's second-biggest economy. See how big companies' sales stack up against GDP over the past decade. More