Next in line for bailout? Life insurers
Treasury Department may allow insurance companies holding companies or thrifts to apply for TARP funds.
Bailout tracker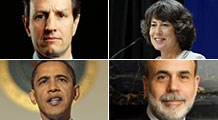 The government is engaged in a far-reaching - and expensive - effort to rescue the economy. Here's how you can keep tabs on the bailouts.
More
NEW YORK (CNNMoney.com) -- The Treasury Department is poised to open its $700 billion bailout program to life insurers, officials said Wednesday.
Investors have been increasingly worried about the health of life insurers, which have been hit hard by worries about capital requirements and growing losses.
A number of insurers that are also bank holding companies or thrifts have been eligible for funds from the Troubled Asset Relief Program since last fall.
Now Treasury is signaling that it may approve some of those applications for bailout funds.
"There are a number of life insurers who met the requirements for the Capital Purchase Program because of their thrift or bank holding company status and applied within appropriate deadlines," said Treasury Department spokesman Andrew Williams. "These are among the hundreds of financial institutions in the CPP pipeline that will be reviewed and funded as appropriate on a rolling basis."
Prudential Financial Inc. (PRU, Fortune 500), Hartford Financial Services Group Inc. (HIG, Fortune 500) and Lincoln National Corp. (LNC, Fortune 500) are among those that have applied.
About $135 billion remains from the original $700 billion allocated for the bailout last October.
Several life insurance companies told CNNMoney.com that they haven't heard from Treasury whether or not they would get public assistance.
"Months ago, we had heard Treasury was going to be making a decision one way or another," said Whit Cornman, spokesman for the American Council of Life Insurers. "We're looking forward to the official decision."
Last year, the Office of Thrift Supervision approved applications from Hartford Financial Services Group Inc. and Lincoln National Corp. to become bank holding companies, due to their planned bank purchases. Becoming a bank holding company qualifies the life insurers for TARP assistance.
Philadelphia-based Lincoln is buying Newton County Loan & Savings FSB in Goodland, Ind. Hartford, based in Hartford, Conn., is buying Federal Trust Bank in Sanford, Fla.
Hartford spokeswoman Deborah Raymond said the company has not heard anything from Treasury about its application for TARP assistance.

Features

These Fortune 100 employers have at least 350 openings each. What are they looking for in a new hire? More

It would be the world's second-biggest economy. See how big companies' sales stack up against GDP over the past decade. More