Bulls' big bank bounce
Wall Street rises in the morning after Wells Fargo says it will post strong first-quarter profit. Dow up around 200 points.
Photos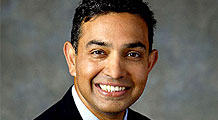 NEW YORK†(CNNMoney.com) -- Wells Fargo lit a fire under the stock market Thursday morning, after the bank forecast a nearly $3 billion quarterly profit, adding to hopes that the hard-hit financial sector is stabilizing.
The Dow Jones industrial average (INDU) gained 200 points, or 2.6%, 35 minutes into the session. The S&P 500 (SPX) index rose 25 points, or 3%. The Nasdaq composite (COMP) gained 51 points, or 3.2%.
Stocks finished Wednesday's session with gains, boosted by a merger in the housing sector and optimism about the economic recovery. Those gains continued Thursday morning.
Trading volume is expected to be light. Thursday is Passover and U.S. markets will be closed in observance of Good Friday.
Peter Cardillo, chief market economist for Avalon Partners, said Wall Street appears to be headed for another rally.
"There are still a lot of negative people there, but there's no question that this tight bear grip has loosened," he said.
Banking: Wells Fargo (WFC, Fortune 500) says it expects to report profit of $3 billion for the first quarter, surpassing analysts' forecasts. Chief Financial Officer Howard Atkins said earnings were driven by "exceptionally strong mortgage banking results." The company's stock rose 28% in morning trading.
Other bank stocks jumped in tandem, including Citigroup (C, Fortune 500), JPMorgan Chase (JPM, Fortune 500), Goldman Sachs (GS, Fortune 500) and Morgan Stanley (MS, Fortune 500).
The KBW Bank (BKX) sector index added nearly 10%.
Economy: March chain-store sales showed a bigger-than-expected decline. Among the bigger names, Costco Wholesale (COST, Fortune 500) reported a 5% drop. Wal-Mart (WMT, Fortune 500) posted a lower-than-expected increase of 1.4%, blaming a late Easter.
The government also released reports on weekly jobless claims and the February trade balance.
Initial jobless claims fell to 654,000 in the week ended April 4, slightly higher than the 650,000 expected by a consensus of economist forecasts compiled by Briefing.com. The government revised its jobless claims from the prior week, to 674,000 from 669,000. Also, continuous claims reached another record high of 5,840,000.
The trade balance reached a deficit of $25.97 billion in February, the government reported. This was much less than the deficit of $36.5 billion that was expected by a consensus of forecasts compiled by Briefing.com. The deficit for the prior month was $36 billion.
Companies: Moody's ratings agency downgraded Warren Buffett's Berkshire Hathaway (BRKA, Fortune 500)'s top-notch credit rating, citing its investment losses.
Dutch bank ING (ING) said it would sell up to $10.6 billion to raise capital. The company plans to sell 10 to 15 businesses and will shift its attention to the European market.
World markets: Asian stocks posted gains. Japan is expected to unveil a $150 billion stimulus package Friday aimed at boosting the economy. The Nikkei in Tokyo rallied nearly 4%. European shares were higher in afternoon trading.
Oil and money: The dollar rose versus major international currencies, including the euro, the British pound and the yen. Oil prices surged $2.59 a barrel to $51.97.

Features

These Fortune 100 employers have at least 350 openings each. What are they looking for in a new hire? More

It would be the world's second-biggest economy. See how big companies' sales stack up against GDP over the past decade. More