Wells Fargo predicts a $3 billion profit
San Francisco-based bank forecasts earnings well ahead of estimates, sending shares of big banks higher on hopes that they have hit bottom.
Map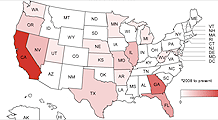 NEW YORK (CNNMoney.com) -- Wells Fargo delivered a much-needed bit of good news for the banking sector Thursday, saying it expected to book a better-than-expected profit of approximately $3 billion in the most recent quarter.
The announcement not only sent Wells Fargo (WFC, Fortune 500) stock 32% higher, but boosted shares of many other big banks as investors bet that Wells' peers may also post results that exceed Wall Street's estimates. Bank of America (BAC, Fortune 500), which will report its results on April 20, gained 35%.
Originally slated to deliver its results later this month, the San Francisco-based Wells Fargo issued guidance for the first quarter, saying it expected to report a record profit of about $3 billion, or 55 cents per common share. Expectations are for the company to book a profit of 28 cents a share, according to Thomson Reuters.
"Our business momentum is strong, and we expect our operating margins to remain at the top of our peer group," Wells Fargo CEO John Stumpf said in a statement.
Wells Fargo attributed the strong results to healthy lending margins driven by lower interest rates, fewer additional costs related to its purchase of Wachovia and a boom in mortgage activity.
Mortgage applications surged during the quarter, with the company reporting $83 billion in applications during the month of March alone.
Wells Fargo also said Thursday its recent purchase of Wachovia was exceeding expectations. The company announced plans to acquire Wachovia, which was on the verge of collapse during the height of the credit crisis, last October.
Since the deal completion's late last year, customers that had been concerned about Wachovia's health have been returning, Wells Fargo said, which helped drive loan and deposit growth in the current quarter .Wells Fargo said that Wachovia accounted for 40% of combined revenue in the quarter.
Until now, there have been persistent fears that further deterioration across Wachovia's shaky loan portfolio would mean more writedowns for Wells Fargo.
But top executives at the firm reiterated their confidence in the purchase, which has drastically expanded Wells' footprint in both the Southeast and the Mid-Atlantic.
"Wachovia's outstanding franchise has proven to be everything we thought it would be when we announced this acquisition," said Stumpf.
Just a quarter ago, Wells Fargo swung to a $2.6 billion loss, hurt by a charge related to the Wachovia purchase and rising credit costs.
A repeat performance?
With Wells Fargo giving such an upbeat forecast, the market's attention now turns to the nation's remaining big banks.
Next week, a trio of the nation's largest banks will report their numbers starting with Goldman Sachs (GS, Fortune 500). Following closely behind are JPMorgan Chase and Citigroup, which are expected to deliver their results next Thursday and Friday respectively.
Analysts expect most of the big banks to report a profit in the quarter, with the notable exception of Citigroup.
A modest uptick in capital markets activity as well as a surge in mortgage refinancings over the last three months has helped turn the tide, analysts said.
The increased mortgage activity helped Wells Fargo this quarter, and many industry observers believe that other big mortgage lenders and servicers will also benefit from the latest refi boom.
"That should roll through to the BofA's, JPMorgan Chase's and Citi's of the world," said Robert Maneri, managing director at Victory Capital Management, whose firm owns shares of all three banks.
Top executives at all three firms made headlines last month after indicating that they were profitable during the first two months of the year.
A numbers game
But some analysts are still skeptical. Earlier this week, bank stocks swooned after Calyon Securities analyst Mike Mayo warned that many of the nation's leading banks have written down the loans on their books by only a fractional amount, and added that loan-loss ratios would exceed peak levels from the Great Depression.
There are also fears that last week's move by the Financial Accounting Standards Board to relax the rules that banks rely on to value some of their assets could allow lenders to take greater liberties with their results.
Others worry that banks may try and postpone building their loan loss provisions this quarter in an attempt to make their results appear that much more rosy for regulators who are currently "stress testing" the books of the nation's largest banks in an effort to determine if they may need to raise additional capital.
"Banks are seeking to avoid having to raise additional common equity and reporting strong first quarter earnings could help them in that effort," said Ed Najarian, head of bank stock research for ISI Group.
At Wells Fargo, the company set aside just $1.3 billion for future loan losses during the quarter, a level that some say doesn't square with the current economic environment and an unemployment rate of 8.5%.
"The low level of net credit losses and low level of loan loss provisions will prove unsustainable," Najarian said.
Nevertheless, shares across the banking sector finished Thursday sharply higher. JPMorgan Chase (JPM, Fortune 500) climbed 19% while Citigroup (C, Fortune 500) gained about 13%.

Features

These Fortune 100 employers have at least 350 openings each. What are they looking for in a new hire? More

It would be the world's second-biggest economy. See how big companies' sales stack up against GDP over the past decade. More