Chrysler's attack on crummy quality
Even the government has called quality an issue for the carmaker's survival. Doug Betts' job is to fix it.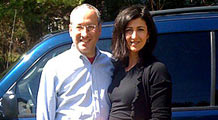 From a 1997 Mercury Cougar to a 2009 Honda Pilot, 8 readers tell us why they decided to buy a new car or keep their old wheels.
Find your next Car

NEW YORK (CNNMoney.com) -- If you've ever worked in customer service, you know what the wrath of a dissatisfied client feels like. Now just think what Doug Betts, Chrysler's Chief Customer Officer, has to face every day in his job.
Chrysler has become the poster child for poor quality. The government flamed the company on this very issue when it decided it wouldn't give it the billions it needed to survive.
But more importantly, people who've paid tens of thousands of dollars for a Chrysler, Dodge or Jeep are not pleased. It's Betts' job to face these unhappy customers and fix the problems they bring to him.
Not a single product Chrysler, Dodge or Jeep sells is currently recommended by Consumer Reports, largely because of below average "predicted reliability" as measured by owner surveys. Chrysler brands also rank low in J.D. Power surveys of dependability and usability.
Betts job is to find exactly what's wrong with Chrysler's current crop of products, how to get it fixed and how to make sure future products stand out for the right reasons.
Progress has already been made, he said, and will begin showing up in surveys over the next year or so. The 2011 Jeep Grand Cherokee, with its richer interior treatments, is the first Chrysler vehicle to show Betts' influence in a big way. Basically, he's redefining priorities and making sure the designers' work actually makes it into the finished product.
Betts has some experience in this area, having worked for a decade at Toyota (TM) and three years at Nissan. At Nissan he tackled quality glitches by introducing programs similar to the ones he's now put in place at Chrysler.
In 2003, the year before Betts jointed Nissan, Consumer Reports magazine recommended five Nissan models. By 2008, the year after he left, the magazine recommended 11. This year, 14 made the list.
Recommendations for Chrysler vehicles fell from four to zero over that time period, even though it had more models in contention.
Count, measure and track
The basic strategy is to count, measure and log everything, keeping careful track of every problem a customer has with a car and tracing it back to the cause.
It also means keeping careful tabs on every vehicle in development to make sure that cost-cutting, a constant pressure at a company facing bankruptcy, doesn't leave Chrysler products feeling cheap and shoddy, as it has in the past.
Improvements are already showing up on current Chrysler products, Betts said. The results will start showing up in dependability surveys soon, he said, as these improved models are just now flowing into the market.
"We probably fixed a thousand problems last year," Betts said. He quickly corrected that figure to "probably more than a thousand."
In most cases, the fix will be something totally invisible to the end customer. For instance, the interlocking teeth on a plastic clip might not have been long enough, allowing a cable it held in place to vibrate loose and rattle. But, while the customer will never see that change, it could prevent an annoying problem later on.
Many different types of 'quality'
Last year, Betts boasts, Chrysler reduced the rate of warranty claims by 30%. In recent years, the average rate of improvement had been just 2.4%
But that's just one type of quality: Dependability. In Betts view, there are six distinct types of quality and Chrysler needs to do better in all of them:
Dependability (things not breaking)
Perceived quality (how solid and nice the car looks, feels and sounds)
Performance quality (how it rides and drives)
Regulatory quality (not getting recalled)
Service quality (being treated right by the dealer)
Dissatisfaction (nothing's wrong, customers just don't like the car)
To get to the bottom of all these, Betts surveys Chrysler customers relentlessly, usually by phone. Betts often listens in to the calls himself. Customers are interviewed shortly after they purchase and at intervals over the next few years.
"We had 30,000 interactions last month," he said.
The survey is simple: Would you recommend that someone buy this car from this dealer?
The answer is given on a one-to-ten scale.
"We want them to be "Hell, yeah!" said Betts, but the people with a score of six or below are the ones that can provide valuable lessons.
"We hope to learn a lot from people with six or below," he said. "Those are detractors."
Detractors are the people who check the bad boxes on surveys and who complain to friends, family and in Internet postings, smearing the brand. For detractors, Betts said, he digs deeper trying to find out exactly where the problem was. The interviews are done over the phone so surveyors get a real sense of whether a customer is just a little annoyed or really ticked off.
When creating new cars and trucks, quantifying everything, including how customers feel about the fit and texture of interior parts, helps quality concerns compete against financial concerns. Financial concerns have always been easy to quantify, said Betts, that's why when a company is in financial trouble, interiors end up looking chintzy. Hard numbers always beat the wishy washy "it just doesn't look as nice."
"The irrational cost target is the arch enemy of the quality department," said Betts.
Now designers can fight back with their own numbers, telling the folks with the business plan that taking out wood trim, for example, or substituting cheaper switches will detract too much from customer value. That's a losing game.
Bridging continents
A partnership with Fiat, which the Treasury Department has said is critical to Chrysler's survival, will create some additional quality challenges. Fiat has gone through its own quality improvement campaign resulting in better performance for the company in Europe. But European attitudes about quality are different from those in America.
European consumers are more concerned with "perceived quality," how their cars feel and sound, than dependability. They're less bothered than Americans by the occasional glitch or breakdown.
Meanwhile, American consumers resent breakdowns mightily but will put up with some dicey interior parts for a dependable car.
Betts has met with his counterpart at Fiat, who toured some of Chrysler's U.S. plants. The companies are on similar quality improvement paths, he said, but given their different strengths, there are things the two companies can learn from one another.
Cupholders, for instance. Europeans don't understand their need - it's a car, not a bar, they say - but American customers absolutely demand them.
"I don't understand it," he said. "They must not be very thirsty over there."

Features

These Fortune 100 employers have at least 350 openings each. What are they looking for in a new hire? More

It would be the world's second-biggest economy. See how big companies' sales stack up against GDP over the past decade. More