GM: The good, the bad and the ugly
The way to save General Motors could very well mean splitting the company into two -- even though that could cause future headaches.
Photos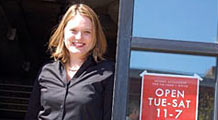 Photos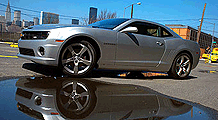 NEW YORK (CNNMoney.com) -- If General Motors goes into bankruptcy, many of its most iconic brands, such as Buick and Pontiac, might not survive.
But if that is the course GM (GM, Fortune 500) follows, some of its healthier brands, such as Chevrolet and Cadillac, could find themselves reborn as part of a smaller, much healthier company relatively quickly.
The Obama administration has given the battered automaker until June 1 to come up with a new turnaround plan that cuts significantly deeper than the previous restructuring proposal. That earlier plan, unveiled in February, called for the company to likely shed its Saab, Hummer and Saturn brands, but to keep Buick, GMC and at least part of the Pontiac product line.
The growing assumption in the industry is that if GM is forced into bankruptcy, the company will be split into a so-called "good GM" and "bad GM."
The good brands -- such as Chevy and Cadillac, and its stronger overseas operations - would be sold quickly to a new company set up with government financing, and presumably led by GM's current management team.
That new leaner, healthier GM would be able to go forward without the burden of much of the debts and problems that now weigh down the current company.
The bad parts of GM, including Saturn, Saab and Hummer, unprofitable plants and much of the company's obligations, would be left behind in bankruptcy court, likely slated for a slow, painful liquidation.
Experts say this is the only way that there could be a so-called quick bankruptcy process for a company as large and complicated as GM, which is what the Obama administration has said it would like to achieve if GM does file for bankruptcy.
The surviving portions of the company could be out of bankruptcy rather quickly, while the bankruptcy process continues for the remainder of the company. That would be similar to the bankruptcy filing of Lehman Brothers, in which the surviving operations were sold to Barclays (BCS) within days of the Wall Street firm's bankruptcy filing in September.
"In cases like this, the motion to have a sale is one of the first motions you would file in bankruptcy," said Heidi Sorvino, head of the bankruptcy practice in the New York office of law firm Smith, Gambrell & Russell.
But Sorvino said that even this process may not be quick and clean.
It is possible that if only the healthy portions of GM were being spun-off, it could attract other bidders who would be wiling and able to pay a higher price for them, such as a private equity firm or even another automaker. And the bankruptcy judge would likely be bound to give those assets to the outside bidder.
GM's chief spokesman Stephen Harris said that the sale of healthy assets to a new company is something the company will look at if it is forced into bankruptcy, but that GM is still committed to reaching cost-cutting deals with creditors and unions that allow it to stay out of bankruptcy.
"No decision has been made on a bankruptcy," he said. "That [kind of sale] has been mentioned by a lot of people because of your ability to get in and out of bankruptcy quickly. Everyone agrees if we have to go to bankruptcy, getting out as quickly as possible is essential."
Future of GMC, Buick, Pontiac in doubt
Harris wouldn't comment on what brands would go with a good GM and what would stay with the bad GM. The biggest question still unanswered, according to experts, is where Buick, Pontiac and GMC would land.
President Obama went out of his way to mention Buick's improved reliability ranking in his remarks about the future of the industry on March 30. But as far back as 2005, then GM Vice Chairman Robert Lutz was conceding that Buick and Pontiac had become damaged brands.
GMC, a truck brand, has been hurt by Americans' growing preference for fuel efficient cars rather than pickups and SUVs.
Many experts argue that outside of the potential in China, a growing market where Buick is particularly strong, there are few advantages to keeping those three brands alive.
"In North America, they can get by with Cadillac and Chevrolet, the way Toyota gets by with only Toyota and Lexus," said Aaron Bragman, research analyst with IHS Global Insight. "This is the golden opportunity to shrink down to the size that's justified by their current sales."
The extra brands drain off marketing and research and development dollars that could be better concentrated on Chevy and Cadillac, according to those who favor GM getting rid of Buick, Pontiac and GMC.
But other experts argue those three mid-market brands still have value for GM, particularly when auto sales start to return to more normal levels. They say without the sales generated by these brands, the remaining GM factories wouldn't be able to operate at full capacity, which would hurt their competitiveness.
"If it's going to cost more to eliminate them than keep them, why do it?" said David Cole, chairman of the Center for Automotive Research, a Michigan think tank. "If there was an easy case to be made to eliminate the brands, it would have been done already."
But others point out that concerns about the cost of eliminating hundreds of GMC, Buick and Pontiac dealers are what has kept the brands alive this long.
Still, one car industry expert said it might make sense to get rid of the dealer networks for those specific brands but not kill the brands themselves. Chevy dealers could sell some of the more attractive Pontiac models, while Cadillac dealers could sell the handful of Buick and GMC vehicles that have some value.
"I think there's some equity in those brands," said Karl Brauer, editor-in-chief of Edmunds.com. "What you can't have is separate dealer networks anymore."

Features

These Fortune 100 employers have at least 350 openings each. What are they looking for in a new hire? More

It would be the world's second-biggest economy. See how big companies' sales stack up against GDP over the past decade. More