Chrysler developing electric sports car for 2010
Dodge Circuit, a two-seat roadster, could be Chrysler's first step into electric cars, provided the company survives.
Photos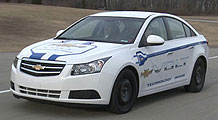 Find your next Car

NEW YORK (CNNMoney.com) -- A battery-powered 268-horsepower two-seat sports car is in line to become Chrysler LLC's first electric car, provided the carmaker lives to see another day.
To survive, help is needed from Italy's Fiat but, as negotiations with the Italian automaker bog down and the two week deadline to hammer out a partnership approaches, the company's future - as well as its aspirations for an electric hot rod - are increasingly in doubt.
Chrysler's first electric car, set to be introduced late next year around the same time as General Motors' Chevrolet Volt, will be a sports car with a zero-to-60 time of under five seconds and a top speed of 120 miles per hour.
Following that, according Chrysler's filings, will come electric-powered cars, SUVs and crossovers, some based on Fiat vehicles, according to the "viability plan" Chrysler submitted to the Treasury Department.
While Chrysler has still not officially announced any of these details, the carmaker's viability plan listed an "EV Roadster" as a future product for 2010. That would be the Dodge Circuit, a car that Chrysler unveiled at the 2009 Detroit Auto Show in January and which is now prominently displayed at the New York Auto Show.
The Circuit will be a purely plug-in car - there will be no gas tank or gasoline engine at all - with an expected range of 150 to 200 miles on a full charge. Power will come from a 200 kilowatt, or 268 horsepower, electric motor.
"This vehicle is so light it doesn't even require power steering," said Chrysler spokesman Nick Cappa.
Cappa would not comment on how closely Chrysler will adhere to the plan laid out in the government filing, so he could not confirm that the Circuit will be the first Chrysler electric car. Executives insist the program is on track, generally speaking, and Chrysler will be ready to produce cars on time.
"To be able to meet a 2010 timeline, you have to be pretty far along in development, and right now we are," said Lou Rhodes, head of Chrysler's electric car program, in a recent CNNMoney.com interview.
The Circuit is similar to the Tesla Roadster, a $109,000 sports car produced by a small California company. Pricing for the Circuit has not been announced but will likely undercut the Tesla.
Meeting fuel efficiency standards
Besides the obvious public relations value - and there will be a ton of that - electric cars like the Circuit could help Chrysler meet stricter fuel economy standards. Corporate Average Fuel Economy (CAFE) rules are, as the name implies, based on an average fuel economy of all the vehicles a manufacturer sells. A few electric cars added to the mix will really boost that average, making things easier on the gasoline-powered side of the ledger.
In its March 30 "Determination of Viability," the Treasury Dept. said that Chrysler "will struggle to meet proposed fuel-efficiency standards." These electric cars will go a long way to solving that problem, said Chrysler spokesman Nick Cappa.
"What we have, going forward, is a plan that will meet our CAFE needs without an issue," he said.
The carmaker recently announced a deal with battery maker A123 Systems to manufacture lithium-ion battery packs for the full line of electric-powered cars Chrysler hopes to make. The plan is to produce the battery packs as modules that can be easily combined and arranged for different uses in a variety of vehicles.
In total, Chrysler plans to come out with 5 electric car models by 2012. Some will be electric-only, others will be extended-range vehicles in which a gasoline engine will generate electricity on board after about 40 miles of driving on a fully charged battery. They will also differ greatly in terms of vehicle type. Possibilities include a minivan and an Jeep Wrangler-like off-roader.
A performance vehicle like the Circuit is about more than just fun, insisted Cappa. It's part of a strategy to cover a variety of market needs with electric vehicles built around a common, flexible battery technology.
The key component is a stackable battery pack that can be combined like building blocks to create larger or smaller battery packs of different shapes depending on need.
"The whole idea is that this is technology you can adapt to any existing niche," he said.
Leaning on Fiat
Some of these electric vehicles will be based on Fiat products. A Fiat-based battery powered small car is slated for production shortly after the Circuit, according to Chrysler's viability plan.
Further out, a Fiat-based extended range electric compact SUV - which will also be offered as a gasoline-powered vehicle - is planned for early 2012. Other Fiat/Chrysler hybrid and electric cars and SUVs are planned after that.
Despite the ambitious nature of Chrysler's program and the number of models involved, it might be too little, too late under even the best of circumstances, said industry analyst Bill Pochiluk of Automotive Compass LLC.
By the time these cars hit the market, General Motors (GM, Fortune 500) will be in production with the Chevrolet Volt range-extended electric car and Ford (F, Fortune 500) will have its own plug-only compact car. They will also compete against new hybrids from Ford, Toyota (TM) and Honda (HMC), which are entering the market now.
"At this point in time, I think it's very difficult for Chrysler to be competing when all you have is a 'me, too' product," said Pochiluk.

Features

These Fortune 100 employers have at least 350 openings each. What are they looking for in a new hire? More

It would be the world's second-biggest economy. See how big companies' sales stack up against GDP over the past decade. More