Bernanke sees 'signs' decline is easing
Federal Reserve chief says 'tentative signs' indicate the economy's slide is slowing. Full recovery will require stabilization of banks.
Bailout tracker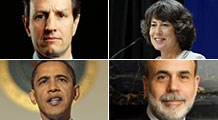 The government is engaged in a far-reaching - and expensive - effort to rescue the economy. Here's how you can keep tabs on the bailouts.
More
Video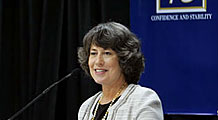 The Fixers
7 people are in charge of rescuing the economy. Here's who they are and how they plan to do it.
NEW YORK (CNNMoney.com) -- Federal Reserve Chairman Ben Bernanke said Tuesday he sees "tentative signs" that the economy's dramatic decline is easing, but that full recovery won't come until the financial system is stabilized.
"Recently we have seen tentative signs that the sharp decline in economic activity may be slowing," Bernanke told students and faculty of Morehouse College in Atlanta.
Bernanke said "a leveling out of economic activity is the first step toward recovery." But an economic recovery will not be sustainable "without a stabilization of our financial system and credit markets," he added.
Among the positive indicators Bernanke mentioned were recent upticks in home sales and new home construction. He also pointed to improvements in consumer spending, notably sales of new vehicles.
Sales of both new and existing homes unexpectedly rose in February, after several months of declines, as sellers slashed prices and mortgage rates fell to historic lows. Also in February, initial construction of new homes and applications for building permits both rose unexpectedly.
"Certainly, the housing market remains depressed, but lower interest rates and house prices are making houses more affordable," Bernanke said.
While the housing market in some regions may be nearing a bottom, the outlook for retail sales, which make up the bulk of the nation's economic activity, remains cloudy.
Government figures released Tuesday showed retail sales fell 1.1% in March, after a revised gain of 0.3% the month before. Economists surveyed by Briefing.com had forecast retail sales to increase 0.3% last month.
Auto sales, meanwhile, were better than expected in March. While overall sales fell to a 34-year low last month, all the major automakers posted gains from January and February, and all but Toyota topped Edmunds.com's sales forecasts.
The central bank has aggressively lowered interest rates, which now stand near zero percent, in a bid to revive the faltering economy. With its main monetary policy tool effectively exhausted, the Fed has launched a number of unconventional lending and buying programs aimed at restoring confidence in the credit markets, which seized up in September as wary banks and investors hunkered down.
"We've taken extraordinary steps because we are living in extraordinary times," Bernanke said during a question and answer period after the speech.
In response to a question about investor and consumer confidence in the economy, Bernanke said "we're already seeing, in some financial markets, considerable improvement."
The Fed chairman also addressed concerns that the dramatic steps the Fed has taken to boost liquidity will result in higher rates of inflation in the future.
"We have a number of effective tools that will allow us to drain excess liquidity and begin to raise rates at the appropriate time," Bernanke said. Some of the Fed's special lending programs will "almost certainly" have to be unwound or scaled back once the economy begins to recover, he added.
Bernanke also reiterated his belief that government support of certain financial services companies, such as insurance giant American International Group (AIG, Fortune 500), was necessary to prevent a major financial collapse.
"Conceivably, [AIG's] failure could have triggered a 1930s-style global financial and economic meltdown, with catastrophic implications for production, incomes, and jobs," Bernanke said.
AIG was heavily exposed to complex derivatives that plummeted in value as the financial crisis unfolded. Because of its size and the scale of its investments, policy makers deemed AIG "too big to fail."

Features

These Fortune 100 employers have at least 350 openings each. What are they looking for in a new hire? More

It would be the world's second-biggest economy. See how big companies' sales stack up against GDP over the past decade. More