Student showdown: The Rice Business Plan Competition
More than 40 fledgling companies head to Houston this month to compete in America's largest and richest competition for student-lead startup ventures.
Photos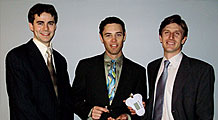 Entrepreneurial hope springs eternal - even in a recession.
At this month's Rice Business Plan Competition, dozens of fledgling ventures will go head-to-head in a competition to score seed money and other startup assistance, including a Grand Prize package featuring a $125,000 investment. For the second year in a row, Fortune Small Business is co-sponsoring the competition.
This year's contest attracted a record 340 entrants, from which were chosen 42 semifinalists. Those teams will head to Houston to compete in a three-day event starting April 16, at which they'll pitch their business plans to a jury of venture capitalists and other investors. At stake: More than $160,000 in cash and investment prizes totaling $425,000.
Want to meet tomorrow's startup stars? Check out our profiles of 12 of the most promising contestants. We're also spotlighting six teams competing in a new track this year focused on social entrepreneurship.
Of the 228 teams that have competed at Rice since 2001, 93 officially launched their businesses and 85 are still in business today, according to the competition organizers.
Want to read about some of the greatest hits from Rice and FSB competitions past? We've profiled7 thriving companies that got their start at these contests.
For a full run-down of the Rice competition's prizes and rules, visit the Rice Business Plan Competition Web site.

To write a note to the editor about this article,
click here
.