Obama pushes tax cuts, foreclosure fix
In Week 13, the president outlines his priorities in an important speech on the economy. Next week, Congress returns.
100-day scorecard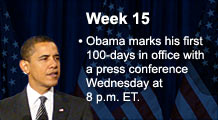 NEW YORK (CNNMoney.com) -- President Obama continued to make the case for sweeping economic reforms this week as he approaches the symbolically important 100-day mark in his presidency.
In a major speech on Tuesday, Obama sought to explain his administration's efforts to simultaneously fight the financial crisis and build a foundation for future prosperity.
He also responded to criticism that he is attempting to do too much and defended his plans to make big investments in education, health care and energy.
Echoing comments made last week, Obama said he sees "glimmers of hope" in the economy. But he tempered that by saying "we're not out of the woods just yet."
"There is no doubt that times are still tough," Obama told students and faculty at Georgetown University. "But from where we stand, for the very first time, we're beginning to see glimmers of hope."
At the same time, Obama sought to frame the debate over how to right the nation's economy as lawmakers return to Capitol Hill next week after a two-week recess.
"All of these efforts will require tough choices. All these efforts will require compromise," he said. "But the difficulties can't serve as an excuse for inaction."
Congressional hearings are scheduled next week on the risks posed by large financial institutions and the role of local governments in administering stimulus funds.
Meanwhile, world financial ministers will gather in Washington this weekend for meetings of the International Monetary Fund and the World Bank.
100-day scorecard: Week 13. CNNMoney.com will continue to track Obama's first 100 days in office and keep score of the government's unprecedented efforts to fix the ailing economy. (Last week's article is available here.)
Foreclosures: Obama's loan modification program took a significant step forward this week.
On Wednesday, the Treasury Department named the first six banks to sign up for the plan, which aims to help 9 million troubled homeowners avoid foreclosure.
The two-part plan, unveiled in February, calls for servicers to reduce monthly payments to no more than 31% of eligible borrowers' pre-tax income or to refinance eligible mortgages even if the homeowner has little or no equity.
The government is allocating $75 billion to subsidize part of the payment reductions, as well as provide thousands of dollars in incentives for servicers and borrowers to participate.
Among the largest banks taking part: JPMorgan Chase (JPM, Fortune 500),Wells Fargo (WFC, Fortune 500) and Citigroup (C, Fortune 500).
Tax day: Also on Wednesday, the deadline for Americans to file income tax returns, Obama touted his tax cut as an important part of his plan to right the economy.
"My administration has taken far-reaching action to give tax cuts to the Americans who need them, while jump-starting growth and job creation in the process," Obama said in remarks at a Tax Day event.
Obama called his tax cut the most progressive in modern history, saying it will affect some 120 million families and put $120 billion directly into their pockets. It also will lift more than 2 million Americans out of poverty, he added.

Features

These Fortune 100 employers have at least 350 openings each. What are they looking for in a new hire? More

It would be the world's second-biggest economy. See how big companies' sales stack up against GDP over the past decade. More