Stocks recharge the advance
Wall Street stages late-session run-up as investors scoop up financial shares.
Photos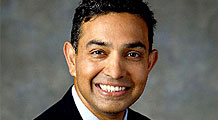 NEW YORK (CNNMoney.com) -- Stocks gained Tuesday, rebounding after the previous session's rally as worries about corporate results were countered by renewed hopes that the financial sector is closer to stabilizing.
After the close, Yahoo (YHOO, Fortune 500) reported lower quarterly sales and earnings that topped estimates. The Internet search bellwether also said it would cut 5% of its workforce.
The Dow Jones industrial average (INDU) gained 127 points, or 1.6%. The S&P 500 (SPX) index gained 18 points, or 2.1%. The Nasdaq composite (COMP) gained 36 points, or 2.2%.
Wednesday morning brings quarterly results from Dow components AT&T (T, Fortune 500), Boeing (BA, Fortune 500) and McDonald's (MCD, Fortune 500).
Financial firms Wells Fargo (WFC, Fortune 500) and Morgan Stanley (MS, Fortune 500) are also due to report Wednesday.
Stocks tumbled Monday, retreating from a six-week run after Bank of America (BAC, Fortune 500) reported results that beat forecasts, but also warned about deteriorating credit quality. Despite better-than-expected results from JPMorgan Chase (JPM, Fortune 500), Goldman Sachs (GS, Fortune 500) and others, investors have been wary about bank results.
Those concerns continued to drag on stocks Tuesday morning. But the financial sector turned around in the afternoon, lifting the broader market, after Treasury Secretary Timothy Geithner defended Treasury's Troubled Asset Relief Program (TARP) and other attempts to help stabilize the banking system. Geithner was speaking before a Congressional bailout oversight committee. (Full story)
Citigroup (C, Fortune 500) shares gained after the Dow component said at its annual meeting that it will pay back the government the $45 billion it received in taxpayer assistance.
The KBW Bank (BKX) index gained 8.1%.
Stocks rose for six straight weeks, propelling the S&P 500 by 29% as investors bet that the economy is closer to stabilizing. That same optimism is lifting stocks now, but will peter out if the economic and corporate news doesn't start to improve, said Dean Barber, president at Barber Financial Group.
"This is a classic bear market rally," Barber said. "People want to say that the market is telegraphing that the recession will soon be over, but there isn't anything fundamental that supports that."
He said that the rally is being driven partly by the vast amounts of cash sitting on the sidelines and the lack of appealing options, due to low-yielding money market accounts and short-term bond yields.
Market breadth Tuesday was positive. On the New York Stock Exchange, winners beat losers four to one on volume of almost 1.67 billion shares. On the Nasdaq, advancers topped decliners three to one on volume of 2.45 billion shares.
Results: After the close Monday, IBM (IBM, Fortune 500) reported higher earnings that beat estimates on weaker revenue that missed estimates. The tech leader reiterated its goal of earnings of $9.20 per share in 2009 and said it is on track to meet its profit goal of $10 to $11 per share in 2010. Shares gained 2% Tuesday.
Also late Monday, Texas Instruments (TXN, Fortune 500) reported weaker quarterly sales and earnings that topped expectations. The chipmaker forecast first-quarter earnings per share above analysts' forecasts. Shares lost 1% Tuesday.
On Tuesday, Dow components Caterpillar (CAT, Fortune 500), Merck (MRK, Fortune 500), DuPont (DD, Fortune 500), Coca-Cola (KO, Fortune 500) and United Technologies (UTX, Fortune 500) all reported results.
Caterpillar reported its first quarterly loss since 1992, due to charges related to recession-tied layoffs. The heavy equipment maker also cut its full-year earnings and sales forecast. Shares gained 3% after sliding in the morning.
Merck reported weaker quarterly sales and earnings that missed analysts' forecasts, citing the global economic slowdown. The company also said its soon-to-be-completed purchase of Schering-Plough (SGP, Fortune 500) would help drive growth in the coming years. Merck shares fell 6.7%.
Separately, Schering-Plough reported higher-than-expected first-quarter earnings. Shares fell 4%.
DuPont reported weaker quarterly earnings that topped estimates on lower sales that missed forecasts. The chemical maker also cut its full-year 2009 earnings forecast and said it will take on most of its cost-cutting initiatives in the months ahead. Shares gained 4.9%.
Coca-Cola reported weaker quarterly earnings that met Wall Street's forecasts. The world's biggest soft-drink maker also reported lower quarterly revenue. Shares lost almost 3%.
United Technologies reported weaker quarterly earnings that met estimates on a drop in quarterly sales. However, the company said it expects to see profit growth in 2010, sending shares higher. Shares rose 4.8%.
Bonds: Treasury prices tumbled, raising the yield on the benchmark 10-year note to 2.89% from 2.83% Monday. Treasury prices and yields move in opposite directions.
Lending rates were mixed. The 3-month Libor rate was unchanged from 1.10% Monday, according to Bloomberg.com. The overnight Libor rate fell to 0.20% from 0.22% Monday. Libor is a bank-to-bank lending rate.
Other markets: In global trading, Asian markets ended lower. Most European markets fell in afternoon trading.
In currency trading, the dollar fell versus the euro and gained against the yen.
U.S. light crude oil for May delivery gained 63 cents to settle at $43.51 a barrel on the New York Mercantile Exchange.
COMEX gold for June delivery fell $4.80 to settle at $882.70 an ounce.

Features

These Fortune 100 employers have at least 350 openings each. What are they looking for in a new hire? More

It would be the world's second-biggest economy. See how big companies' sales stack up against GDP over the past decade. More