Obama to lean on credit card CEOs
Congress is pushing ahead on legislation to protect consumers, and the president is signaling he's ready to take action.
Bailout tracker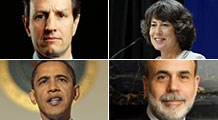 The government is engaged in a far-reaching - and expensive - effort to rescue the economy. Here's how you can keep tabs on the bailouts.
More
WASHINGTON (CNNMoney.com) -- Are the stars finally aligned for a Washington crackdown on credit cards?
President Obama on Thursday will attend a meeting of administration officials and card company executives. He is expected to press CEOs to adopt practices designed to protect consumers.
Meanwhile, Congress is pushing ahead on legislation that in past years has been introduced - and even approved by the House - but that has never advanced very far.
This year might be different. Many insiders on both sides of financial services issues say they expect legislation to ride the populist wave that swept Democrats into the White House and to Congress in greater numbers.
A key House committee could vote as soon as Wednesday.
"If not now, then when?" asked Kathleen Day of the Center for Responsible Lending. "The momentum is certainly there."
The bills would, among other things, ban card companies from abruptly jacking up interest rates and fees and prevent young adults from getting credit cards.
But if the bills advance all the way to President Obama's desk, it won't be without a fight.
Even as legislation last week moved further than ever before, financial sector lobbyists are redoubling their efforts to knock it off course. Their aim: prevent Congress from passing anything stronger than new Federal Reserve changes already set to take effect in July 2010.
Banking lobbyists warn that tougher rules, especially those proposed in the Senate, could make credit card lending more costly or curb the issuance of new cards - and in turn slow the recovery of slumping credit markets.
The credit card sector gave as much as $7.3 million to lawmakers in both political parties during the 2008 election cycle, according to the Center for Responsive Politics. Since last October, Visa spent $1.7 million on lobbying, according to government lobbying registries.
Meanwhile, credit cards are weighing on consumers' minds and wallets. In February, credit card debt that companies can't collect - and thus give up on and write down - reached a 20-year high, according to Moody's Credit Card Index. The rate at which consumers made late credit card payments also rose to a 17-year high.
"Lots of people are calling and writing their representatives and saying: 'You can't let these guys get away with this,' " said Travis Plunkett a lobbyist with the Consumer Federation of America.
Obama hasn't indicated his preference on existing credit card legislation. During the campaign he advocated for many of the same reforms that the tougher Senate bill proposes, such as banning credit card issuers from making "unilateral" changes to the consumer's contract.
If Congress does nothing, Federal Reserve rule changes set to kick in next year would stop higher interest rates from being imposed when consumers are late paying unrelated bills. The changes also stop companies from averaging finance charges from two previous cycles, a practice that dings consumers who carry a balance and pay it off.
The House bill, sponsored by Rep. Carolyn Maloney, D-N.Y., is similar to the Federal Reserve changes, with a few more reforms. It would also prevent card companies from marketing and issuing cards to those younger than 18. And it bans credit card companies from charging a fee for payments made over the phone.
"For too long the playing field has been tilted against the American consumer as they have battled against unfair and deceptive acts and practices related to their credit cards," Maloney said while presenting the bill earlier this month.
A similar bill she sponsored last year passed the U.S. House but never made it out of a Senate committee.
This year, credit card legislation made it out of a Senate committee, but just barely, by 12-11. The Senate bill is even tougher than the House bill, preventing credit card issuers from raising interest rates and fees even if the consumer's general credit risk goes up.
A top industry advocate, Scott Talbott of the Financial Services Roundtable, said that if credit card companies can't charge fees and interest based on general risk, all card holders will have to pay more because customers with good credit scores will have to subsidize those with weaker credit scores.
"It's going to reduce credit and make it more expensive for everyone," he said. "That's not what we need for the financial markets."
Many Senate Republicans and a few Democrats have said they don't like the Senate's legislation, making passage unlikely without concessions. The sponsor, Sen. Chris Dodd, D-Conn., has said he's willing to consider some compromises.
The Senate bill also prevents those under 21 from getting credit cards unless a parent or guardian backs them up or if they take a government-approved financial literacy test. The Senate bill also prevents retailers from charging "dormancy" fees on gift cards that aren't redeemed within a certain period of time.
While veterans political watchers expect a credit card bill of some type to pass this year, the bill may also give the financial sector industry a couple of things they've been seeking. For example, in an attempt to woo the industry, the Senate bill now also offers an unrelated that banking interests like.
It would increase Federal Deposit Insurance Corp.'s ability to borrow from the Treasury to $500 billion, up from $100 billion. It also allows the National Credit Union Administration to borrow from Treasury up to $18 billion, up from $6 billion.

Features

These Fortune 100 employers have at least 350 openings each. What are they looking for in a new hire? More

It would be the world's second-biggest economy. See how big companies' sales stack up against GDP over the past decade. More