Autoworkers: 'If we go down, so does this town'
Kokomo, Indiana is ground zero for auto industry layoffs. Workers say if nothing is done to save their jobs, the town is done.
Photos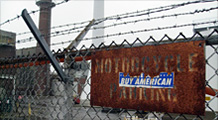 NEW YORK (CNNMoney.com) -- For the average American, this recession is scary enough.
If you're an auto worker in Kokomo, Ind., living in a town with nearly 20% unemployment and working for a company that could go belly up any day, it's downright terrifying.
"It's gloom and doom around here," said Rick Ward, a union steward standing outside a Chrysler transmission factory at quitting time. "We're just hoping it stays open. There aren't a lot of other opportunities here in central Indiana."
"We don't know what to expect," Cliff Pitcher, an electrician for Chrysler, said over a beer at a local bar.
Given the state of the industry, a permanent shutdown is not out of the question. And that would indeed be bad news for this car town of 45,000 people an hours drive north of Indianapolis. Nearly a quarter of Kokomo's workforce is employed in the auto sector, mostly at four Chrysler plants and a Delphi factory, the former electronics arm of General Motors.
If Delphi, currently in bankruptcy, and Chrysler closed their doors tomorrow, the town could be looking at an unemployment rate of 40%.
Staying optimistic
Despite that grim prospect, town officials remain upbeat.
"Everything is coming at us much faster than we had hoped," said Mayor Greg Goodnight. "But we've seen factories come and go. In the long run we will prevail."
Goodnight and other local officials have embarked on an aggressive attempt to lure new business to town. They've also trimmed the city's budget in the face of falling tax revenue.
Ultimately they're hoping the plants won't close outright. They believe Delphi is well positioned to emerge from bankruptcy, and that Chrysler's plants may be picked up by another automaker should the firm close shop.
It's an optimism that's not universally shared.
"When Chrysler and Delphi do close, I don't think we're going to see people spending any money," said Troy Black, owner of Kokomo Paint and Body. "We're headed for a major hurt."
Oddly enough for Black, the recession has actually been good for his business, as people pay to fix old cars rather than buy new ones.
But other local business are bound to suffer.
"If I don't have a job, and my co-workers don't have a job, we're not going to be spending anything," said Pitcher, the electrician.
A bare-knuckled fight
For auto workers, the answer to the problems in America's auto industry is certainly not bankruptcy - which would likely result in a renegotiation of union contracts. In Kokomo, the average union wage is about $60,000 a year, not bad in a place where the average home price is $75,000.
But the workers see bankruptcy as a rip-off.
"Do you know what bankruptcy is," asked Pitcher. "Union busting."
Ward agreed, although he did say the workers realize they may have to take further pay or benefit cuts to keep the industry alive.
The auto workers seem to want what the auto executives have been asking for - and getting - for the past several months: Money from the government to hold them over until they can reorganize their business and the economy improves.
Moreover, they resent that Wall Street has been handed billions of dollars with relatively little oversight while the auto industry has been hounded by Washington. "If they can give these banks $780 billion and then tell us no, then they are God dammed sons of bitches," Pitcher said.
If the auto industry leaves Kokomo, then the auto workers say everyone else will too.
"If we go down, the whole town goes down," said Pitcher.
Not everyone in town feels that way.
"I think there's more diversity in this town than people give it credit for," said one resident, having a micro-brew at an upscale pub. "There's more here than just the auto industry."
The resident did not want to be named, saying that tempers on this issue can run hot.

Features

These Fortune 100 employers have at least 350 openings each. What are they looking for in a new hire? More

It would be the world's second-biggest economy. See how big companies' sales stack up against GDP over the past decade. More